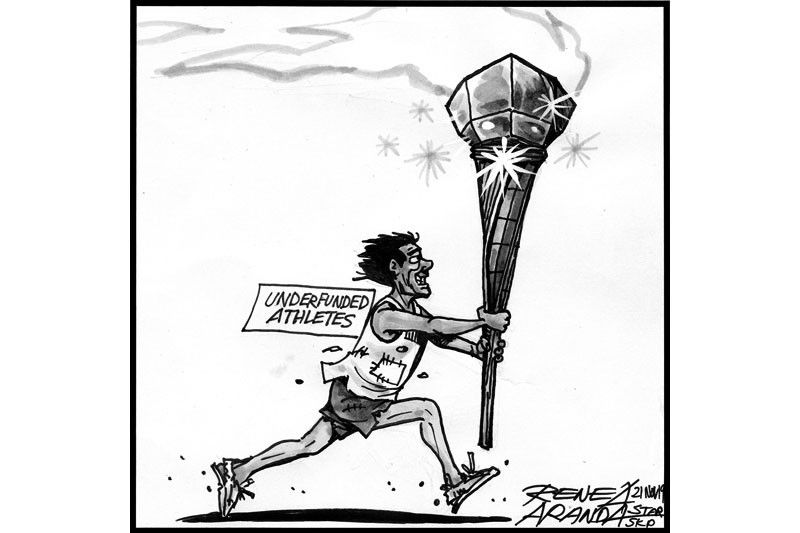 EDITORIAL - A P50-million cauldron
none (The Philippine Star) - November 22, 2019 - 12:00am
Few people are questioning the P4.48 million paid to the late National Artist Francisco Mañosa for his design of an iconic cauldron for the 30th Southeast Asian Games. Whether the P13.4 million for the 50-meter-high SEAG cauldron base plus P32 million for construction work are reasonable, however, will have to be determined by the Commission on Audit – and possibly the Office of the Ombudsman and the Sandiganbayan at some point.
Those behind the construction of the cauldron and the entire New Clark City Sports Complex, the principal venue for the SEA Games, will also have to contend with the lament of certain members of the Philippine athletic team, who questioned the government's priorities.
Philippine athletes have long lamented the limited funding for their training, which must be intensive and prolonged and therefore costly. The training must be supported by sufficient resources for developing world-class athletes, including proper nutrition, apparel and special equipment for each particular sport. The private sector has chipped in heavily in sports development, but the government must take the lead in identifying, training and deploying athletes who can bring top honors to the country.
Another concern over the New Clark City Sports Complex, which deserves to be addressed by the government, is what happens when the SEA Games are over. From an original estimate of P3 billion, the expenditure for the sports hub is estimated to reach P9.5 billion. At that cost, the country cannot afford to have the sports complex turn into a white elephant after the games.
Presidential adviser on flagship projects Vince Dizon has reassured the public that the sports complex, which includes hotel-type accommodations, will be turned into an athletes' training area and center for sports education, which the country still lacks. The facilities can also be used for conferences and related activities.
The road to becoming a white elephant opens as soon as the SEA Games are over. With public misgivings being expressed even before the games start, the government must be ready to prove the critics wrong, and show the people that this is P9.5 billion in tax money put to proper use.