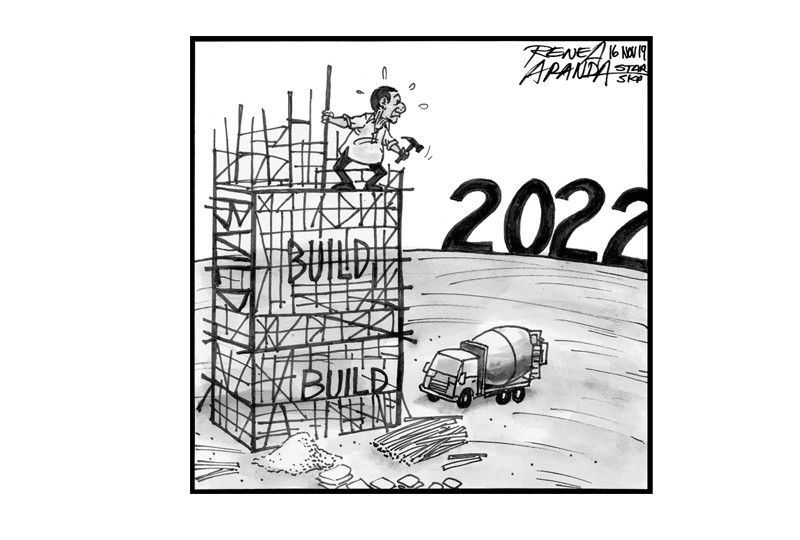 EDITORIAL - Pushing Build Build Build
(The Philippine Star) - November 16, 2019 - 12:00am
Together with his war on drugs, President Duterte unveiled an ambitious infrastructure program at the start of his term. Dubbed "Build Build Build," it listed 75 flagship projects targeted for completion or substantial progress in implementation by the time he steps down in 2022. It was envisioned to herald the "golden age of infrastructure."
As in many infrastructure projects in this country, however, those under Build Build Build have run into red tape, right-of-way issues, court injunctions, inaccurate project assumptions, sheer inefficiency and other problems. The post of presidential adviser on flagship projects has been revived, to review BBB and speed up implementation of the projects that are being retained.
Of the original 75 projects under BBB, only nine are under construction, according to Senate Minority Leader Franklin Drilon, who described Build Build Build as a "dismal failure." Administration officials have disputed this, citing ongoing projects and pointing out that the list has in fact been expanded to about 100 even as some projects were dropped.
A proposal has been made to grant the President special powers to cut through the red tape and other problems and speed up project implementation. With just two and a half years left in the Duterte administration, however, the speaker of the House of Representatives and other officials close to the President say the proposal comes too late.
Many infrastructure projects in fact need speedier implementation. Some of the proposed measures may be pursued without special powers. Local government units in particular can be prodded to cut red tape in processing the necessary permits for project implementation. LGU executives can show more leadership and political will to deal with opposition from residents affected by certain projects. Right-of-way and relocation issues in particular are best tackled by local executives with their constituents at the grassroots.
The flagship projects include roads, transportation facilities, airports, and even additional sources of water for Metro Manila. They are imbued with public interest and deserve to be completed. Every effort must be made to get them going as smoothly as possible.