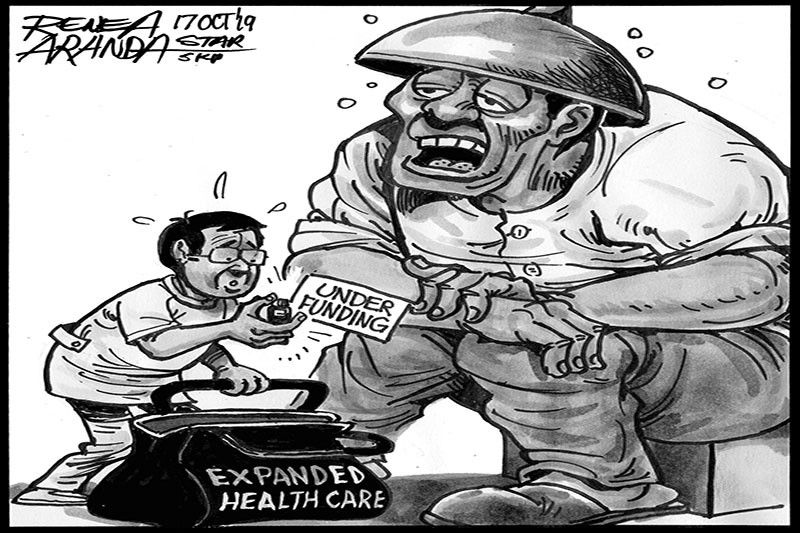 EDITORIAL – Not yet universal health care
(The Philippine Star) - October 17, 2019 - 12:00am
The Supreme Court has ruled that nurses deserve a monthly basic pay of P30,000 under Republic Act 9173 or the Philippine Nursing Act of 2002, which enhanced RA 7164 passed in 1991. But the SC also stressed that it would be up to Congress to allocate funding for the increase.
Health officials have said that with Congress already finalizing the General Appropriations Act or GAA for 2020, the increase may not be possible by next year. Worse, a senator has warned that more than 10,000 workers of the Department of Health – about 40 percent of the 26,389 government health personnel – could even lose their jobs next year because of a P9.39-billion cut in the DOH budget for 2020.
The workers reportedly include 7,107 nurses, 202 dentists and 597 medical technologists under the Human Resource for Health Deployment Program. The funding is being slashed as the DOH gears up for the implementation of the Universal Health Care law in 2020. The implementing rules and regulations for the law were signed on Oct. 10.
This problem is similar to the significant funding cut for public education even as the government expands free universal education to the tertiary level. Public school teachers are also seeking an entry-level pay of P30,000 a month – up from P20,754 – to be at par with military and police personnel.
From its appropriation this year of P169.45 billion, the proposed 2020 budget for the DOH is down to P160.15 billion. Its health deployment program is seeing its P8.5-billion allocation for 2019 slashed drastically to P2.45 billion next year.
DOH officials said the universal health care program, which expands the health care services subsidized by the state, needs P257 billion in its first year alone. But with the funding short by nearly P95 billion, the DOH has said the expanded primary care benefit package can only be rolled out progressively, initially in 33 "integration sites" where the local government units are most prepared to assist the department. In Metro Manila, only the cities of Parañaque and Valenzuela are included.
The controversy is raging amid reports that lawmakers have tagged billions in the proposed 2020 appropriation for their pet infrastructure projects. The national budget will show where the priorities of the government lie. With funding constraints, it looks like the health care program isn't going to be expanded enough or universal by 2020.