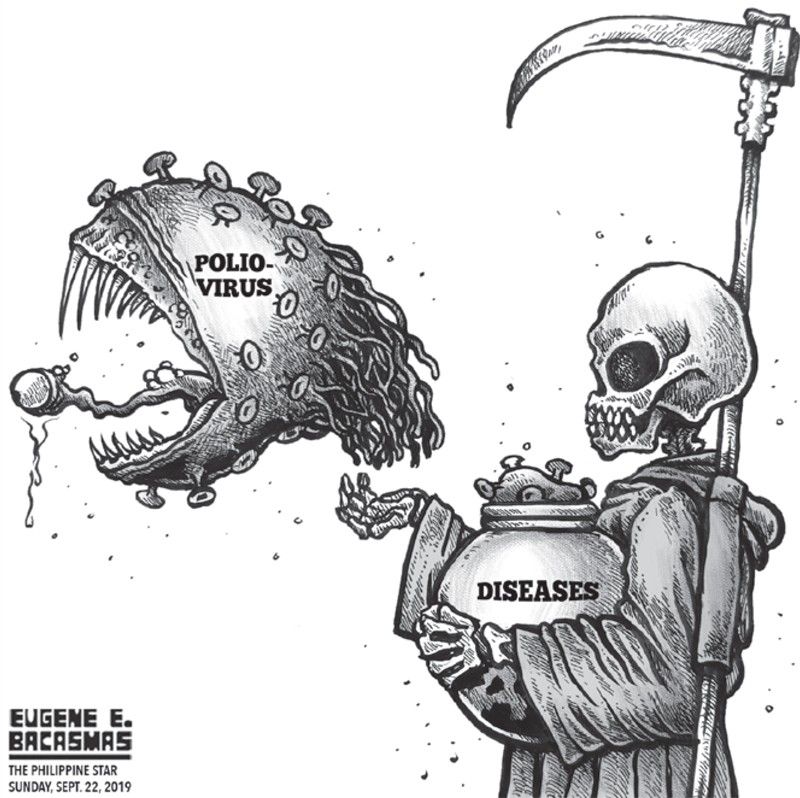 EDITORIAL - A killer disease resurfaces
(The Philippine Star) - September 22, 2019 - 12:00am
Filipino children have been getting polio vaccines for about half a century. The last case of poliovirus in the country was recorded in 1993, and the country was declared free of the degenerative and potentially deadly disease in 2000.
Last week health officials declared that the disease has resurfaced, with a three-year-old girl in Lanao del Sur who has not been vaccinated becoming paralyzed by Type 2 poliovirus. A day later, the Department of Health confirmed that a five-year-old boy in Laguna had also been stricken by poliovirus. The boy suffered from the onset of paralysis on Aug. 25 but has since recovered his ability to walk, although he is still being closely monitored by the DOH.
Poliomyelitis can infect the brain and spinal cord, crippling a person for life. The disease can cause death. The DOH is still trying to determine if the boy, described as immunocompromised, or with a weak immune system that makes him vulnerable to many illnesses, has been vaccinated against polio.
Parents, however, should not wait for the boy's vaccination to be determined; they must make sure their children are immunized against the infectious disease. Unlike the vaccine against dengue, the efficacy of the anti-polio vaccine has been established for decades. It is safe for recipients, easy to administer, and provided for free by the government.
Vaccination becomes more urgent as the DOH reported that environmental samples have shown the presence of type 1 poliovirus in Manila and type 2 in Davao. So far, no type 3 virus has been detected. Type 2 was supposed to have been eradicated globally in September 2015, with the last infection reported in 1999 in India.
In a country declared polio-free, the presence of the two types of the virus plus the confirmation of the two cases constitute an epidemic. Every effort must be made to prevent the outbreak from spreading into truly epidemic proportions. Parents, schools, barangay personnel and local government units must work closely together with health professionals to have all children below five years old vaccinated against polio. The country must be quickly restored to its polio-free status.