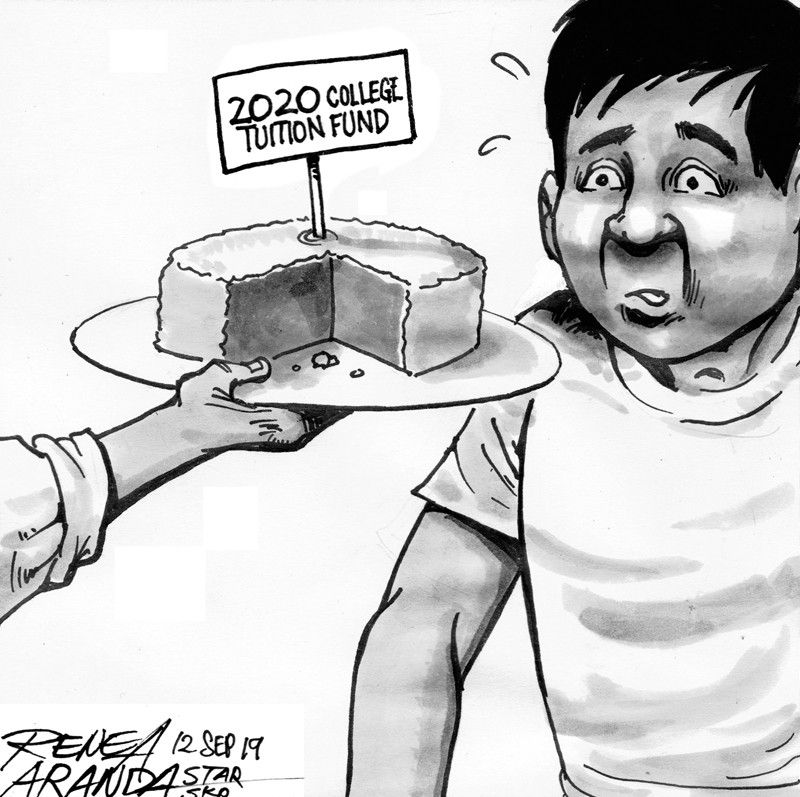 EDITORIAL - Free but less funding
(The Philippine Star) - September 12, 2019 - 12:00am
Tuition is now free all the way to the tertiary level, following the enactment in 2017 of Republic Act 10931 or the Universal Access to Quality Tertiary Education law. With two more years of basic education plus kindergarten, the government should be appropriating a lot more funding for universal free education.
Instead the Commission on Higher Education may see its funding for 2020 go down by a hefty 22 percent from its current appropriation, from P52.435 billion this year to P40.784 billion in 2020. CHED officials informed lawmakers that that this is the commission's allocation under the national expenditure program submitted to Congress by the Department of Budget and Management or DBM.
Getting the biggest funding cuts are the universal access to quality tertiary education, with P7.1 billion less in the appropriation, from P42.49 billion this year to P35.36 billion in 2020, and student financial assistance programs, whose funding will go down by P3.655 billion, from this year's P4.172 billion to just P516.9 million.
Funding for CHED subsidies for medical students in state colleges and universities, amounting to P167 million this year, has been removed altogether from the 2020 budget. The appropriation for the K-12 transition program, meanwhile, is also being pruned, from this year's P3.176 billion to just P2.494 billion.
Like CHED, the Department of Education also saw its proposed funding for 2020 slashed by the DBM from P803.13 billion to P550.89 billion.
CHED officials detailed the funding cuts as the committee on appropriations of the House of Representatives approved the P4.1-trillion national budget for 2020 drawn up by the DBM. The House leadership has promised that there will be no pork barrel-type insertions or another brawl over public works funding allocations for lawmakers, which delayed approval by the previous Congress of this year's General Appropriations Act by a record four months.
RA 10931 provides for not only free but also quality universal public education. The ambitious program requires hefty funding. The proposed expenditures for next year are going in the opposite direction.