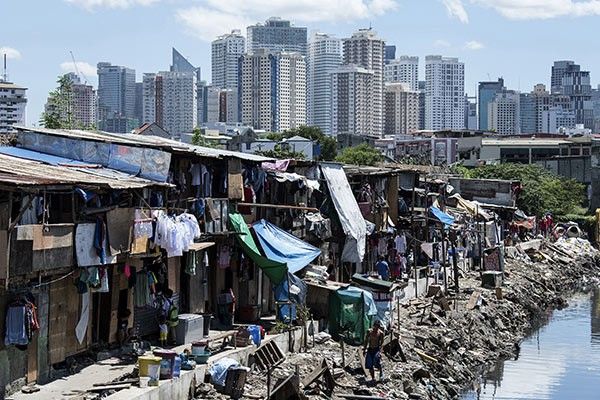 This file photo taken on August 17, 2017, shows people living in a settlement as the skyline of Manila's financial district is seen in the background.
AFP/ Noel Celis, File
BREAKTHROUGH
-
Elfren S. Cruz
(The Philippine Star) - August 29, 2019 - 12:00am
Capitalism is a blatant failure..... citing levels of homelessness and low wages as evidence that the market has failed the country's poor...Measures used to gauge economic success have to change to take into account people's ability to actually have a meaningful life." These words did not come from a radical in a developing country like the Philippines. It was said by Jacinda Ardern, prime minister of New Zealand, a highly developed democratic country with a capitalist economy. Upon taking office, she pledged her government will increase minimum wage, write child poverty reduction targets into law, and build thousands of affordable homes.
In another interview, Ardern said: "If you have hundreds of thousands of children living in homes without enough to survive, that's a blatant failure...What else would you describe it as?" I noticed she did not blame the poor for their poverty. She blamed the capitalist system which placed profit as the primary goal of business.
For a long time, the accepted mantra has been – whatever is good for business is good for the country. The thesis was that as corporations become richer and, its owners become richer, the wealth will "trickle down" to the masses and that the welfare of the workers could be entirely entrusted to their employers who had to be given as much freedom to decide how human resources could be used to increase firm's profitability.
The principal philosopher of this belief was the economist Milton Friedman who once wrote: "There is one and only one social responsibility of business – to use its resources and engage in activities designed to increase its profits so long as it stays within the rules of the game, which is to say engages in open and free competition without deception or fraud."
The basis for these beliefs was that the employees will share in the increase in profitability of the business firm. Also business firms could be trusted to treat workers with dignity so that they did not need the protection of government or labor unions.
As far back as 2013, Pope Francis issued the following statement: "Some people continue to defend trickle-down theories which assume that economic growth, encouraged by a free market, will inevitably succeed in bringing about greater justice and inclusiveness in the world. This opinion, which has never been confirmed by the facts, expresses a crude and naive trust in the goodness of those wielding economic power and in the sacralised workings of the prevailing system."
In a speech on economic inequality, Pope Francis wrote: "Working for a just distribution of the fruits of the earth and human labor is not mere philanthropy. It is a moral obligation. For Christians, the responsibility is even greater: it is a commandment."
In the capitalist world, the biggest debate is deciding which principle – Shareholder Value or Stakeholder Value – should be the framework for the purpose of a business firm. The Shareholder Value Perspective emphasizes profit over responsibility and sees the corporation primarily as instruments of its owners. Therefore, its success is measured in terms of share price, dividends and economic profit. Social responsibility is not a matter for organizations and claim society is best served by organizations pursuing self interest and economic efficiency. Responsibility for employment, local communities, environment, consumer welfare and social developments are not matters for the business firms but are best left to governments or to individuals in the form of philanthropy.
The Stakeholder Perspective places responsibility over profitability. This principle advocates an organization's success should be measured by the satisfaction among all stakeholders of the business – shareholders, customers, employees, local communities, government, interest groups. Its advocates refuse to give shareholders a higher moral claim on the organization. It is important for trust to develop between the organization and all its stakeholders. This can only grow from the perceived security that the interests of all the stakeholders are taken into account.
Aug. 19, 2019 may prove to be a historic day for business. On this date, the Business Round Table (BRT) composed of the 200 most powerful CEOs in the United States publicly declared that "profits for shareholder are no longer the only purpose of a corporation." For the last two decades, the BRT has defended the maxim "maximize shareholder value". In the past it has fought anti-trust legislation, creation of a consumer protection agency, labor law reform and reduction in corporate taxes. All these efforts were done in the name of maximizing profitability.
Steve Denning writes: "By 2019, maximizing shareholder value, i. e. Profit, has come to be seen as leading to a toxic mix of short term corporate profits, astronomic executive pay [compared to rank and file pay], stagnant labor wages, growing inequality, periodic financial crashes, declining corporate life expectancy, slowing productivity and a widening distrust of business."
The BRT has decided to redefine the purpose of business – shifting from the shareholder value to the stakeholder value.
Perhaps the time has finally come when companies with a sense of purpose other than profits will confront the challenges of social injustice, climate change and income inequality. Only then can capitalism be saved from failure.
Creative writing classes for kids and teens
Young Writers' Hangout on Sept. 7 and 21 (1:30 pm-3pm; stand-alone sessions) at Fully Booked BGC. Adult class on writing poetry with Gemino Abad on Sept. 28, 1:30-4:30 pm. For details and registration, email writethingsph@gmail.com.
Email: elfrencruz@gmail.com