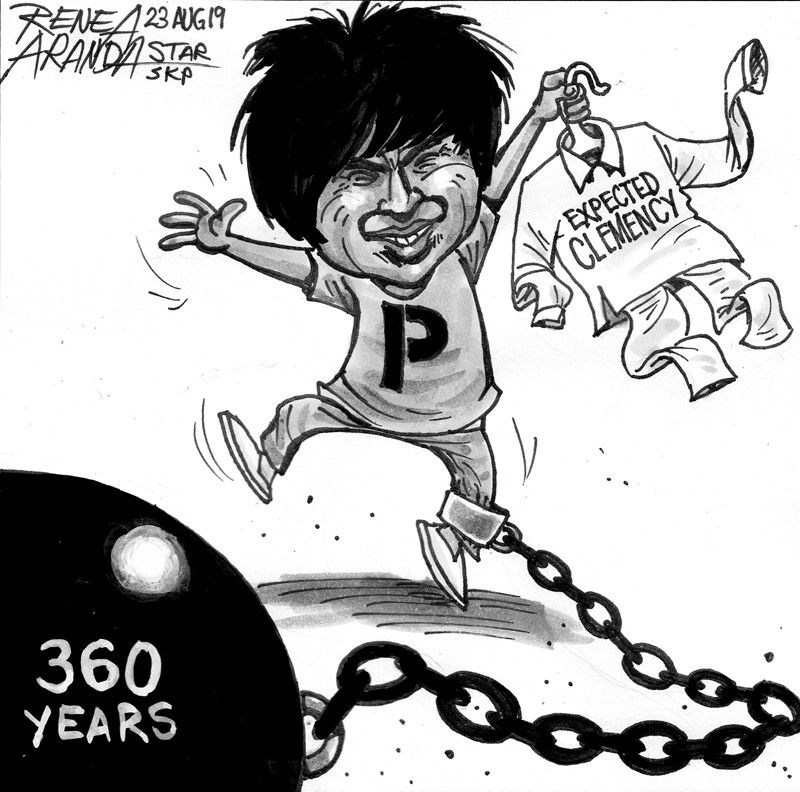 (The Philippine Star) - August 23, 2019 - 12:00am
As of yesterday, it looked like authorities were less inclined to include convicted rapist-killer Antonio Sanchez among the prisoners who may be released soon for good behavior while behind bars.
Justice and corrections officials said the new rules on good conduct and time allowances under Republic Act 10592, now being applied retroactively, exclude those convicted of heinous offenses. And Sanchez was certainly found guilty of a heinous crime.
Court records show that bodyguards of Sanchez had kidnapped two students of the University of the Philippines–Los Baños, Mary Eileen Sarmenta and her friend Allan Gomez. Sarmenta was given by the bodyguards to Sanchez as a "gift" and was raped by the mayor, after which he tossed her to his men who gang-raped her before killing her. Gomez was tortured before being executed.
Also excluded from the good conduct rules are recidivists and habitual delinquents. While serving his seven life terms simultaneously, the former mayor of Calauan, Laguna was slapped with additional charges: for possession of shabu and marijuana in 2006, and then for keeping a kilo of shabu in a statue of the Virgin Mary in 2010. Sanchez allegedly sold P1.5 million worth of illegal drugs to fellow inmates. During raids in 2015, he was among the inmates who were found to have air-conditioning units and flat-screen TVs in their cells.
How can that constitute good behavior, especially in this time of tokhang and Double Barrel? Sanchez's lawyer during his trial, now presidential spokesman Salvador Panelo, has stressed that he has nothing to do with the possible release of his former client.
People deserve a second chance, but crime victims also deserve justice. Thanks to cases in which perpetrators of even heinous crimes get clemency, the criminally minded are encouraged. The lament of Mary Eileen Sarmenta's mother resonates: why does our justice system favor the criminal?