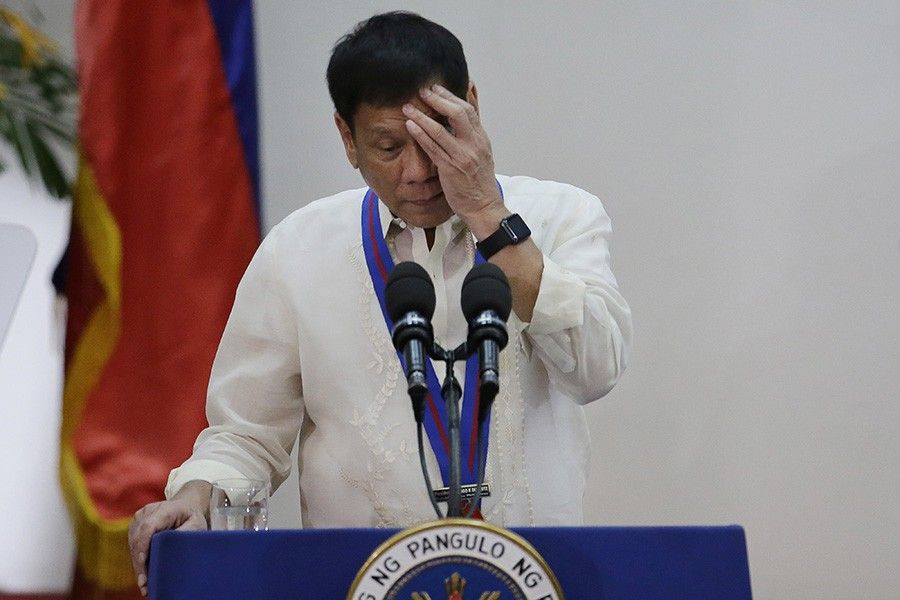 Obviously, the President is not comfortable with a critical collaborator like Sen. Gordon who, like him, could be as bitchy. Truth hurts, I must say. But perhaps, the President just woke up on the wrong side of the bed.
File
COMMONSENSE
-
Marichu A. Villanueva
(The Philippine Star) - August 5, 2019 - 12:00am
As the chief architect of the country's foreign policy, President Rodrigo Duterte declared on day one of his administration he would be guided by the principle: "A friend to all, an enemy to no one." That was after President Duterte took over the reins of the Philippine government in June 2016. A year later, when Department of Foreign Affairs (DFA) Secretary Teodoro Locsin Jr. replaced his immediate predecessor in office, he further refined this principle: "A friend to all, an enemy to none, a worst enemy to a false friend."
Having said that, it would seem that the extended version of this administration's foreign policy is also being applied on the domestic politics policy of President Duterte. This was most pronounced when the Chief Executive blasted one of the key members of the pro-administration bloc at the Senate after openly criticizing him on the appointment to civilian posts in government of newly retired police and military officials.
In his usual colorful language Thursday night at the 28th founding anniversary of the Bureau of Fire Protection (BFP), the former Davao City Mayor lashed at renewed criticisms on his latest appointments of retired police and military officers. It was not clear though why the President blew his top when he got much bitter attack in the past over the same issue. At the end of the stinging presidential insults was Senator Richard Gordon.
But what got the goat of the President?
A quick look at the Duterte's Cabinet appointees with military and police background include Defense Secretary Delfin Lorenzana, ex-Philippine Army chief; Environment Secretary Roy Cimatu, former AFP chief of staff; Interior Secretary Eduardo Año, a former AFP chief of staff; Social Welfare Secretary Rolando Bautista, also former Philippine Army chief; and, Housing and Urban Development Coordinating Council Secretary Eduardo del Rosario who once served as commander of Task Force Davao and commander of the 73rd Infantry Brigade assigned to Davao provinces.
The latest to join the Duterte Cabinet was Information and Communications Technology Secretary Gregorio Honasan who was once a renegade Army Colonel whom Mayor Duterte admitted many times over as having been given refuge in Davao City while being "wanted" as a fugitive mutineer.
Appointed to sub-Cabinet posts include the likes of former AFP chief now Bureau of Customs Commissioner Rey Leonardo Guerrero; Technical Education and Skills Development Authority Director-General Isidro Lapeña, a retired PNP operations chief; and, ex-PNP Region 3 chief Aaron Aquino as director-general of the Philippine Drugs Enforcement Agency.
Before he ran and won as Senator, ex-PNP chief Ronald dela Rosa briefly served as Bureau of Corrections (BuCor) chief. Former Magdalo mutiny leader Marine Captain Nicanor Faeldon took over from Dela Rosa as current BuCor chief. That is just to name some of them.
Fearing a scenario of military junta-in-the-making, Gordon expressed concern on Wednesday why many retired police and military officers are being placed in key civilian government offices. As chairman of the Senate Blue Ribbon Committee, Gordon echoed growing public perception on how these appointments project a militarized set-up now in the Philippine government.
Gordon scored in particular the President's most recent appointment of newly retired Lt. Gen. Emmanuel Salamat, former chief of the Armed Forces Northern Luzon Command (NolCom). The President named Salamat as board member of the Metropolitan Waterworks and Sewerage System and his designation as concurrent administrator. Also appointed recently was former Cebu Policewoman Col. Royina Garma who is the new general manager of the Philippine Charity Sweepstakes Office.
Digressing anew from his prepared speech, President Duterte admittedly got hurt over Gordon's attempt to explain the appointment of former police and military officials. He quoted the Senator describing him as someone from the province who does not know many people except the police and military officers he came to work with him in the past.
It is still a puzzle why the President took issue on this when he himself admitted this in public. At age 74, he pointed out, he knew very few people in Metro Manila while he was still in San Beda College—and some of them are already dead—but he knows many people in Davao City.
What is worrisome is the President's oft-repeated justification that ex-military and police officials are better than civil servants because they don't argue nor debate orders on them. They are mission-oriented and just do what they are told, according to him. Ergo, the Commander-in-chief only wants "Yes" men to surround the circle.
Gordon's concern finds basis from President Duterte himself who keeps on telling us publicly about possible military junta could take over from him or setting up a "revolutionary government" with him. The presidential warning even comes with a dare to officers and men of the Armed Forces of the Philippines (AFP) and the Philippine National Police (PNP) to just come to Malacañang if anyone of them wants to take over the helm of the government.
In this way, the President keeps pointing out, there won't be any need to launch bloody coup attempt against him. It would be a peaceful transfer of power and will not cause any bloody battle between Filipinos, President Duterte would always add.
The latest criticisms on the President this time apparently struck a raw nerve. Or it is because it came from someone who he considers an administration ally, if not only a personal friend. In fact, a news article about the word war between the two leaders described Gordon as a "collaborator."
We could only imagine the Senator's chagrin—perhaps scratching his head now with thinning hair—and still does not know what hit him. Certainly though, we could only echo his query: Where is the President's anger coming from?
Obviously, the President is not comfortable with a critical collaborator like Sen. Gordon who, like him, could be as bitchy.
Truth hurts, I must say. But perhaps, the President just woke up on the wrong side of the bed.