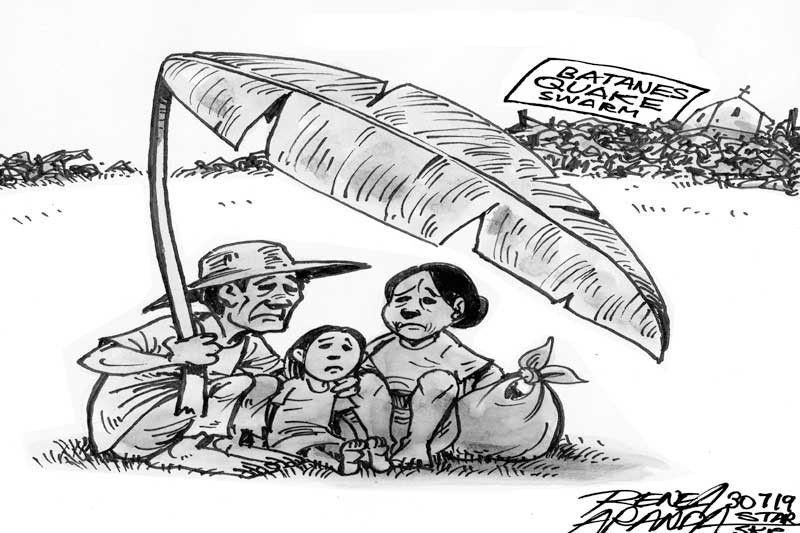 EDITORIAL - While we're sleeping
(The Philippine Star) - July 30, 2019 - 12:00am
It was a tragic, dramatic illustration of the importance of being prepared for disasters, especially in the most unguarded moments. Last Saturday, as authorities carried out what was touted as a nationwide "shake drill" at 4 a.m., a real earthquake rocked the country's northernmost province of Batanes.
Like many other people across the country, most of the Batanes residents were still asleep. The quake at 4:16 a.m. lasted only a few seconds. But with a magnitude of 5.4, followed by a magnitude 5.9 temblor about three hours later, the quakes were powerful enough to destroy a Catholic church and several dwellings, some of them heritage houses in picturesque Itbayat town.
Eight people were killed while about 100 were injured. Yesterday, a ninth fatality was found in a cave. Fearing aftershocks, families fled to safety, learning belatedly the inadequacy of the mass evacuation capability of their province.
July is the same month in 1990 that the magnitude 7.7 earthquake devastated large swaths of Luzon, killing at least 1,621 people mostly in Nueva Ecija and Baguio City. Some areas felt the quake at up to Intensity 9. The quake was so powerful it created a ground rupture 125 kilometers long from the province of Aurora to Cuyapo in Nueva Ecija. Soil liquefaction partly swallowed residential and commercial structures in Pampanga.
Since the catastrophe, there have been improvements in earthquake preparedness. The impact of the recent quake in Batanes, however, shows that more can be done. Structural experts are reminding residents or custodians of buildings made of limestone – a typical material used in heritage churches across the country – to fortify the buildings against earthquakes. The inadequacy of evacuation centers in Batanes also gives urgency to proposals for the upgrading of such facilities across an archipelago that is visited regularly by powerful typhoons and earthquakes, torrential floods and killer landslides.
The Batanes earthquake is just the latest reminder of seismologists' warning that Metro Manila and neighboring areas are ripe for the so-called Big One along the East and West Valley Faults. The fault system runs from Doña Remedios Trinidad in Bulacan through parts of Rizal and Metro Manila up to Cavite and Canlubang, Laguna. When the faults finally move, experts estimate that some 35,000 people could die in Metro Manila alone from the earthquake itself apart from the fires that are bound to break out, with thousands more injured and displaced. Millions would suffer from disruptions in basic services and supply chains, and health facilities could be overwhelmed.
Local government units play a critical role in disaster preparedness and mitigation around the clock. The earthquake in Batanes is the latest sad reminder that disaster can strike, even while we're sleeping.