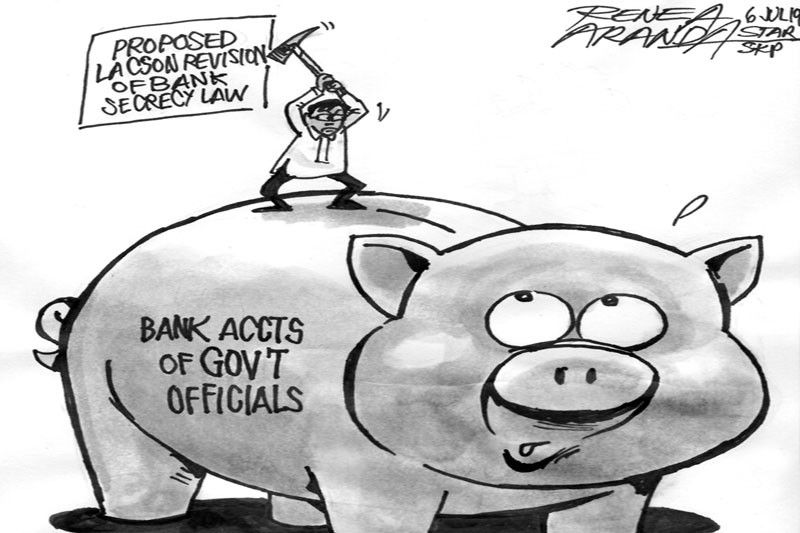 EDITORIAL - Bank secrecy exemption
(The Philippine Star) - July 6, 2019 - 12:00am
Once more with feeling, Sen. Panfilo Lacson has refiled one of his pet measures: the exemption of government officials from bank secrecy laws. Lacson has been waging his campaign since 2001, with little success in previous congresses whose members – in the light of the pork barrel and other corruption scandals – must have been concerned about self-preservation.
Undoubtedly, the self-preservation instinct is still there. Lacson himself has admitted that approval of his bill will be an uphill battle in the 18th Congress. Section 2 of Republic Act 1405, the Bank Secrecy Act, declares as "absolutely confidential" all bank deposits including investment bonds, which cannot be scrutinized by any government office or person.
At the start of the previous Congress in July 2016, Lacson had filed a bill to amend this section of RA 1405, under which bank secrecy can be lifted only upon the written consent of the depositor, in cases of impeachment, or by court order in cases of bribery or dereliction of duty by a public official. A court may also order the lifting of bank secrecy if the bank deposit is the specific subject of litigation.
While bank depositors are entitled to confidentiality of their assets, the privilege has been used by corrupt public officials to conceal dirty money. Lacson is proposing that all elective and appointive government officials, from the president down to the lowest rungs of the bureaucracy, be exempted from the bank secrecy privilege.
In the light of corruption scandals involving lawmakers and even former presidents, this proposal looks dead on arrival at the doorsteps of Congress. But while it took many years and spirited resistance in Congress, lawmakers eventually included corruption and tax evasion among the predicate crimes covered by the Anti-Money Laundering Act of 2001. This was done under pain of seeing the country blacklisted in international finance.
There is no such threat that might compel congressional approval of Lacson's proposal. As long as there are sectors pushing for a genuine anti-corruption campaign, however, proponents of the reform must not lose hope.