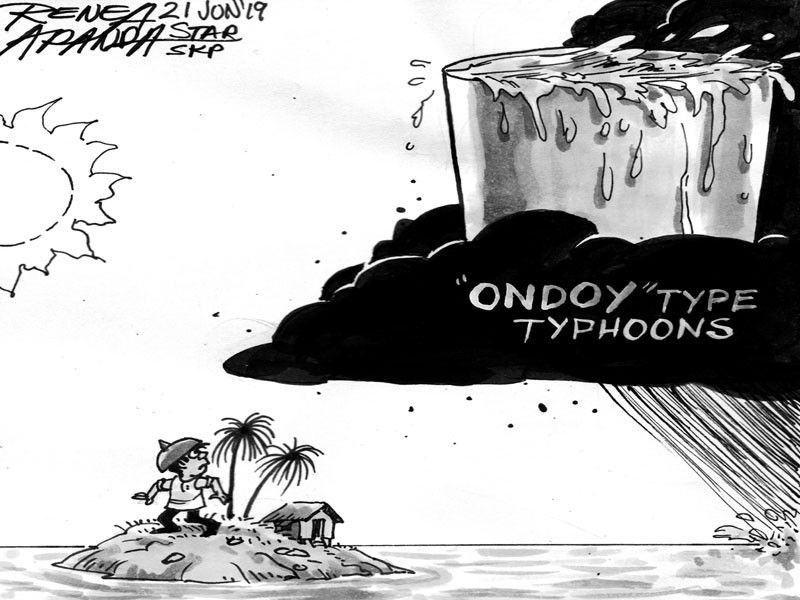 EDITORIAL - Preparing for another Ondoy
(The Philippine Star) - June 21, 2019 - 12:00am
Ten years ago, Tropical Storm Ondoy dumped a month's average volume of rainfall in just six hours in many areas of Luzon. During that brief period, people, cars and shanties were carried away by rampaging floodwaters in Metro Manila. Residents scrambled to their rooftops as floods rose at incredible speed, inundating homes, shutting down roads and isolating many areas.
A week later, families were still mourning the hundreds who died and the floods had not yet subsided in many communities when Typhoon Pepeng ravaged the same areas, aggravating the suffering of those affected by Ondoy. After several weeks, the floods still had not completely subsided in certain communities such as those around Laguna de Bay, where residents also had to contend with an outbreak of leptospirosis.
Weather experts attributed the heavy rainfall to an El Niño phenomenon in that year. Meteorologists explain that the unusually warm ocean temperature in this part of the planet during an El Niño triggers strong evaporation and condensation, producing heavy rainfall during the wet season. The weather experts have alerted the public to prepare for the possibility of Ondoy-like storms this year following the drought that has dried up farmlands and led to water rationing even in Metro Manila.
The death and destruction from Ondoy and Pepeng led to the enactment of Republic Act 10121, the Philippine Disaster Risk Reduction and Management Act of 2010. RA 10121 provides a framework for dealing with natural calamities. The law must be revisited to ensure that all sectors are sufficiently prepared for another Ondoy.