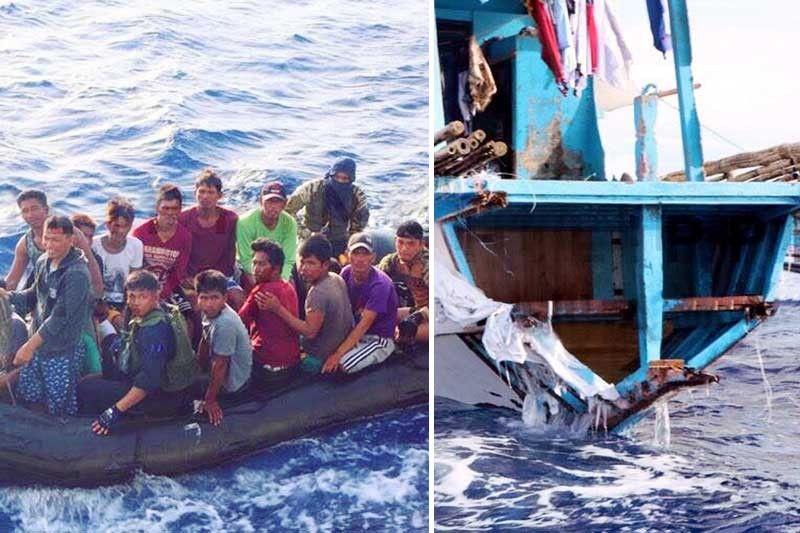 Navy photo shows the first batch of Filipino fishermen rescued in the waters off Recto Bank after their fishing boat was hit by a Chinese vessel. Right shows the damaged stern of the F/B Gemvir1.
SKETCHES
-
Ana Marie Pamintuan
(The Philippine Star) - June 17, 2019 - 12:00am
For sure President Duterte is aware of the comments: he's ready to declare war over garbage sales contracted by private parties, but his silence is deafening when Chinese believed to be maritime militias hit and sink a Filipino fishing boat and then abandon the fishermen to the elements.
The sinking in Recto or Reed Bank is particularly sensitive because it is one of just three spots in the South China Sea over which the Philippines was specifically awarded sovereign rights by the UN-backed Permanent Court of Arbitration or PCA in The Hague.
Unlike Panatag or Scarborough Shoal, which was declared by the court as a common fishing ground over which no country can exercise control, the Philippines has exclusive economic rights over Recto Bank.
There is talk of restiveness in the Armed Forces of the Philippines over the incident in Recto Bank, which is testing Duterte's "independent" foreign policy and further straining his declared pivot to China. There are reportedly rumblings within the AFP about their commander-in-chief having a low opinion of their patriotism and readiness to defend their country.
Duterte's rapprochement with Beijing generally makes sense; all other countries including the United States (despite Donald Trump's anti-China rants) are maintaining ties with China on economic and other fronts. But Duterte must know when it's time to stop bending over backwards, when he must begin looking for manifestations of genuine friendship.
Over the past three years, Duterte has built up a significant reservoir of goodwill with China's President-for-life Xi Jinping. Duterte might yet surprise us with an effective calibrated response to the incident in Recto Bank. He will have to dispel impressions that Chinese activities in the South China Sea indicate that his friendship is not being reciprocated.
* * *
Meanwhile, there's that other question raised by last week's incident in Recto Bank: what's Uncle Sam prepared to do?
The United States is "totally committed" to its Mutual Defense Treaty with the Philippines, and any external armed attack on Philippine military forces, public vessels or aircraft in its metropolitan or island territories in the Pacific will trigger the US obligations under the MDT.
This assurance was given by US Ambassador Sung Kim, who said "any armed attack" includes even one that is conducted by government-sanctioned militias in the South China Sea – a body of water that the US considers to be part of its Indo-Pacific area of operation.
Beijing has denied militarizing the South China Sea, and has instead deployed maritime militias either to protect its fishing fleets or to carry out fishing activities themselves even in the West Philippine Sea.
There have been persistent questions about the extent of US commitment to come to the defense of the Philippines. The US has a long-standing policy of keeping its hands off territorial disputes, and the PCA did not settle territorial questions in the South China Sea. It merely defined the Philippines' maritime entitlements under the UN Convention on the Law of the Sea, and invalidated Beijing's nine-dash-line claim over nearly the entire South China Sea.
Still, Kim noted that US Secretary of State Mike Pompeo during his recent visit in Manila had told President Duterte that "the US is totally committed to the MDT."
The commitment to US obligations under the MDT, Kim told "The Chiefs" last Friday on Cignal TV's One News channel, was "unequivocal."
* * *
Asked about his interactions with Duterte, Kim said the Philippine President has a "wicked" sense of humor. The envoy admits though that "I do have to do a lot of explaining to Washington."
The meetings between the President and America's top diplomat in Manila take place more often than Duterte's anti-US rants might have you believing.
Considering the deeper reason that according to the grapevine underpins Duterte's hostility toward Washington, it probably helps the dynamics between the two men that Kim is a native-born South Korean.
It also helps that he courses any concerns that Washington may have about the human rights situation in the Philippines through diplomatic and other official channels.
In fact the envoy has taken note of the drop in the number of killings linked to Duterte's war on drugs, and he hopes there would be more improvements on the human rights front. Undoubtedly there remain areas of concern in this area for Washington, but Kim is not one to engage in megaphone diplomacy or play big brother to a little brown brother.
"The US has had concerns about the human rights situation here," Kim told us on The Chiefs. He said such concerns particularly on the conduct of the war on drugs have been shared by his government with Philippine officials.
Overall, however, Kim thinks his country's alliance with the Philippines "is getting stronger." On joint military exercises alone, over 280 events are scheduled for 2020 – up from this year's 250.
* * *
The Trump administration, Kim told us, recognizes that Filipinos picked Duterte to be their leader, and the Philippine president remains "hugely popular."
"We have to find a way to work with him," said Kim, who has been posted in Manila for two and a half years. "I actually enjoy meeting with him… he has a pretty wicked sense of humor."
He says he understands that many of the things Duterte says are not exactly what he means.
Kim also says he "can categorically deny" that there is a plot by the US Central Intelligence Agency to kill Duterte or undermine his administration.
"In fact we're doing everything to have a productive and constructive way to work with President Duterte," Kim told us.
The best response to external threats is to build up our self-defense capability. But we're just now taking baby steps along this line. And all over the planet, even states with strong defense capability need international alliances.
During his stint in Manila, Kim might yet get to see Duterte visit Trump in the US. The two presidents appear to have genuinely warmed up to each other. And with Duterte's friendship with Beijing being repaid with maritime militia aggression toward Filipino fishermen in Recto Bank, Duterte might yet see the usefulness of reinforcing ties with Washington.