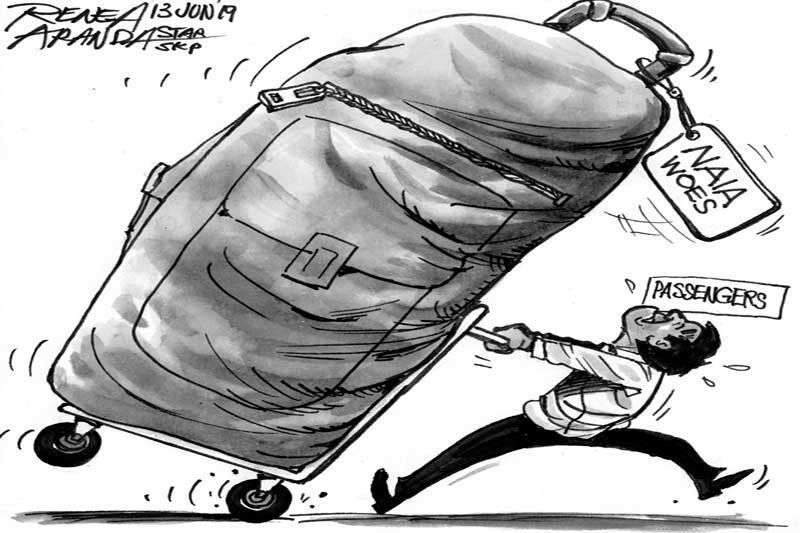 EDITORIAL - An end to flight delays
(The Philippine Star) - June 13, 2019 - 12:00am
Airports in several other countries also take precautions to protect ground personnel when weather agencies issue a "lightning red alert." But do the alerts lead to a four-hour suspension of all flight operations?
Some flights had to be canceled altogether when the Manila International Airport Authority suspended flight operations at the Ninoy Aquino International Airport from 7 p.m. to around 11 p.m. last Sunday after the weather bureau issued a lightning red alert. Airport officials explained that the suspension was ordered in line with protocols adopted following the death of a NAIA Terminal 3 employee who was hit by a lightning bolt on the tarmac during a thunderstorm last year.
Amid complaints from passengers affected by the suspension, President Duterte conducted a surprise inspection of the NAIA at 2 a.m. on Monday. After apologizing to stranded passengers, he promised to find ways within a month to end the perennial flight delays in the country's busiest airport.
If the President makes good on his promise and the delays finally end, he would be considered nothing short of a miracle worker. He has reportedly ordered the diversion of light planes and transfer of general aviation operations to the airport in Sangley Point, Cavite. This has been proposed in previous years but never implemented.
Yesterday, the Department of Transportation declared that every effort would be made to meet the President's aim of decongesting the NAIA as soon as possible. Construction is starting on the infrastructure necessary to support the transfer, DOTr officials said.
This move must be supported by the long-term measure of providing a road connecting Sangley to Metro Manila. It's a long drive from that tip of Cavite to Manila, even if the Cavitex toll road is used. Airlines must ensure that domestic flights using Sangley will have no passengers needing speedy connections to international flights at the NAIA.
DOTr officials believe they can meet the President's expectations and end the flight delays. The public eagerly waits to be pleasantly surprised. In the meantime, simply improving management at the NAIA could go a long way.