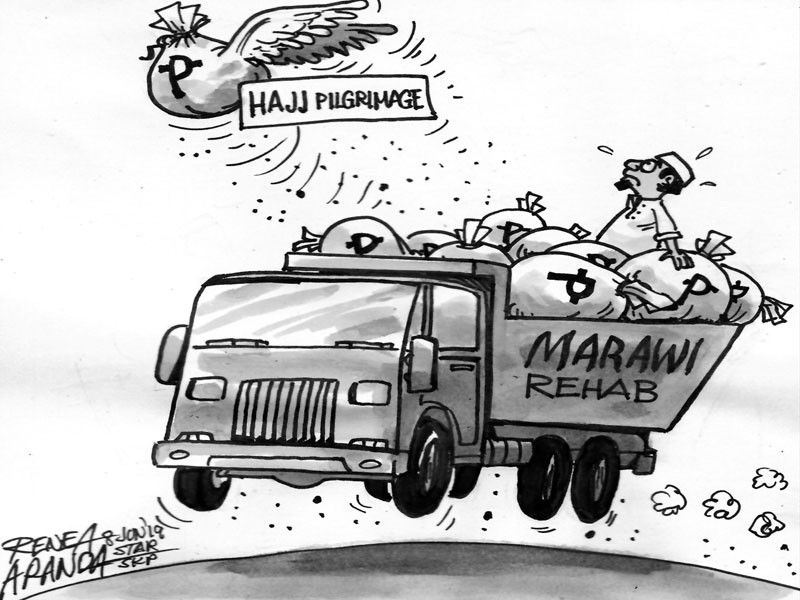 EDITORIAL - 'Social healing'
(The Philippine Star) - June 8, 2019 - 12:00am
Presidential spokesman Salvador Panelo, a lawyer, raised the issue: using public funds for purposes other than what is stipulated in the appropriation could constitute technical malversation.
Panelo was responding to a question on the use of P5 million allocated to the Housing and Urban Development Coordinating Council and earmarked for the rehabilitation of Marawi following its destruction in a five-month terrorist siege. The HUDCC has a P500-million allocation from the Office of the President for public housing and related rehabilitation programs in the city. The Commission on Audit has called out the council for using the P5 million to finance the pilgrimage to Mecca of 27 Marawi evacuees who reportedly won the perk in a raffle.
The Hajj trip is not covered by the memorandum of agreement for the use of the special fund, which is for the "recovery, reconstruction and rehabilitation of the city of Marawi and other affected localities," the COA pointed out.
HUDCC head and Task Force Bangon Marawi chairman Eduardo del Rosario argued that the taxpayer-funded pilgrimage is needed for "social healing." President Duterte expressed a similar view, asking in a speech, "Ano ba naman yang (What is) P5 million?" But other public servants have been convicted and sent behind bars for malversation for diverting less than P500,000 to unauthorized purposes.
Few people will argue with the worthiness of social healing in conflict-torn Marawi. But the physical rehabilitation of the city is moving slowly as it is, and reconstruction funds are limited, making their judicious utilization all the more important.
If the government wants to sponsor religious pilgrimages for victims of armed conflict, the funding must go through the proper process. Abiding by the rules will also protect government personnel who sign off on any questionable program from facing administrative and criminal charges for technical malversation. Formal indictments are possible even several years after the fund diversion is done, under a different administration and a different ombudsman.
If this kind of fund diversion is allowed, it will encourage others throughout the bureaucracy to use public funds liberally, based on personal decisions, and the objectives will not always be as worthy as "social healing." No matter how noble the cause, the means must be as justified as the end. This is the foundation of the rule of law.