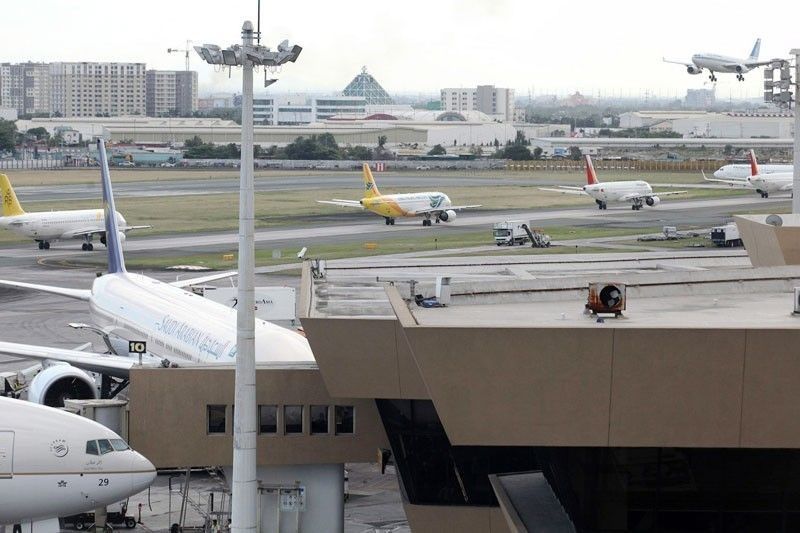 Ninoy Aquino International Airport
File
Devising ways around NAIA runway congestion
GOTCHA
-
Jarius Bondoc
(The Philippine Star) - May 3, 2019 - 12:00am
Airlines at Manila International Airport are under the gun. Unsolved runway congestion messes up their flights. But they can't decry MIA ineptitude outright, lest they be placed on the shit list. Most just grin and bear it. Some bypass procedures, to save money. They come up with technical excuses for flight delays. After all, if due to force majeure, passengers need not be recompensed for cancellations. In the end they cover up the MIA mis-managers. Grateful, the latter in turn ignore the airline's anomalous shortcuts. Thus are wrongs perpetuated at MIA – until the bubble bursts.
Incompetence is at the root of MIA's runway congestion. At the edge of one runway is a weeks-long digging that shortened its useable length. Only aircraft with reduced payload – fuel, cargo, passengers – can use it. The only other runway was closed many hours during the Holy Week rush. Overlooked earlier, a rut at the taxiway intersecting it had to be repaired. Compromising safety is the wrecked Xiamen Airline jumbo that had skidded off that runway onto the grass in August. Larger craft are prevented from using the turn ramp. International rules forbid obstructions on or around runways. (At Hong Kong's Kai Tak Airport in 1993 the tail of a China Airline that had overshot the runway was fuzzing signals from instrument landing systems; at once they dynamited it off.) A further complication: the Xiamen plane has been sealed tight for nine months; if finally opened for salvage, toxins from rotten contents would reek onto surrounding communities.
Clogs at their Manila hub notwithstanding, airlines must meet growth targets. New routes, destinations, and flights needed balancing with the limited runway use. MIA bosses were slow on the uptake. At first they claimed that general aviation was interrupting commercial wide bodies, so forbade small private jets. Then they tried making flights wait at provincial airports until cleared to head to Manila. Effects were minimal. Still planes had to circle MIA or idle at taxiways for hours before allowed to land or take off. Employing guile, pilots of one carrier took to shifting runways to avoid traffic. Ground crew began combining and cancelling delayed flights. Unscheduled flights were created, like colorum jitneys. Most were red-eye runs late nights or wee mornings. Takeoff and landing fees were evaded. The 40-flights-per-hour slotting, carefully planned by an Australian avionics firm at huge cost to the MIA Authority, went haywire. MIA crooks profited, however.
It was bound to implode. Airlines would have to lessen frequencies, lest their crafty procedural bypasses be exposed. Alibis need to be made while exonerating the MIA mis-managers who vindictively can give them hell. In the end, compliant airlines that do not pay under the table will be forced to give up legitimate slots.
Less flights at MIA would spell less commerce, tourism, and government revenues. But what do the mis-managers care, so long as they keep their sinecures.
* * *
The smart aleck who advises voters to take the money but elect their choices anyway doesn't know what he's talking about. A vote-buyer, likely a local contender, is no fool. Allotting P2,000-P5,000 per head, he ascertains that bought votes are cast for him. One way is by having henchmen fill the vote-sellers' ballots for them. Or, he pays known supporters of rival candidates to stay home and not vote at all.
Voter education is best. Misconceptions need correcting. Like, that the aim in voting is to guess the winners. Or, that it is to rate the most popular from the catchiness and frequency of campaign ads.
From surveys, voters choose who for them is (1) malalapitan or approachable, (2) matulungin or helpful, and (3) mapagbigay or generous, and only incidentally (4) matalino or wise, and (5) malinis or honest. They must be taught to evaluate platforms and discern pretentions.
By selling votes, "voters deprive themselves of government aid in the next three years," National Police spokesman Col. Bernard Banac remarks. "(Dirty) candidates will no longer need to help you because you've been paid. That is the rude awakening in store for the vote-seller."
Painfully the bribe money comes from taxpayer-voters themselves, Comelec spokesman James Jimenez notes. "No one buys votes expecting it is a lost investment. One who wins out of vote-buying begins to think he can do it again."
* * *
Catch Sapol radio show, Saturdays, 8-10 a.m., DWIZ (882-AM).
Gotcha archives on Facebook: https://www.facebook.com/pages/Jarius-Bondoc/1376602159218459, or The STAR website https://www.philstar.com/columns/134276/gotcha