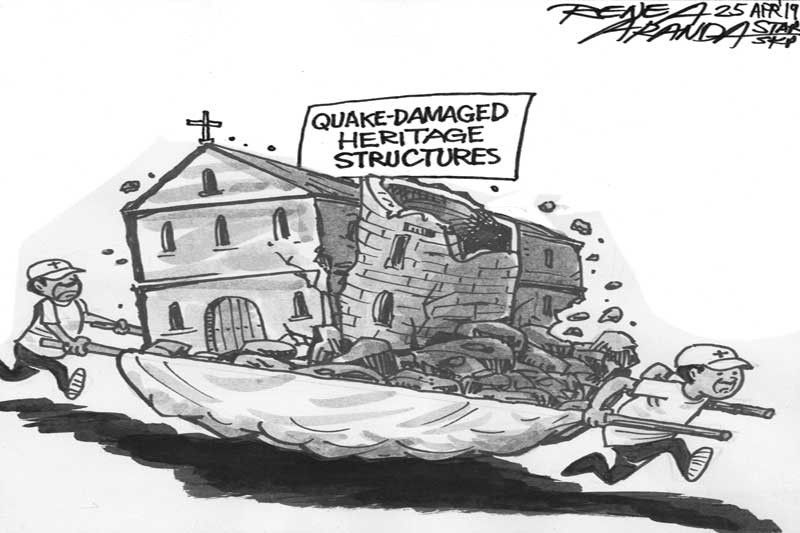 EDITORIAL - Preserving heritage churches
(The Philippine Star) - April 25, 2019 - 12:00am
In 2013, a magnitude 7.2 earthquake severely damaged or destroyed 10 churches in Bohol and Cebu. Among those destroyed was the Church of San Pedro Apostol in Loboc, Bohol, which was built in 1602 by the Jesuits and was among the top tourist attractions in the province.
Last Monday, another church, this time in Porac, Pampanga, crumbled in the magnitude 6.1 earthquake that struck Central Luzon, Metro Manila and parts of the Ilocos Region. The destruction of St. Catherine church prompted the temporary shutdown of 24 so-called heritage churches in Pampanga.
While the damaged churches are not among the four baroque churches in the Philippines listed as World Heritage Sites by the United Nations Educational, Scientific and Cultural Organization, their age and history make them no less precious as a national heritage. All over the Philippines, there are several other churches that deserve to be restored or protected not just from earthquakes but also from the ravages of time.
Restoration requires a special skill, and not just a fresh coat of paint in tombstone white or garish warm hues that pass for Mediterranean style. What's wrong with the original natural color of old adobe? What the churches need is a careful but thorough cleanup. In the light of the recent earthquakes, and the certainty of more to come, given the location of the country within the Pacific Ring of Fire, the churches also need expert upgrading in structural integrity.
With their massive walls, heritage churches may look sturdy. The collapse of several heritage churches in the past years shows how vulnerable they are to destruction from earthquakes. Churches have limited budgets, so contributions from all sectors will surely be welcome, whether financially or through expertise in the various aspects of construction and restoration. Regardless of one's faith, these churches are part of our national heritage and deserve preservation.