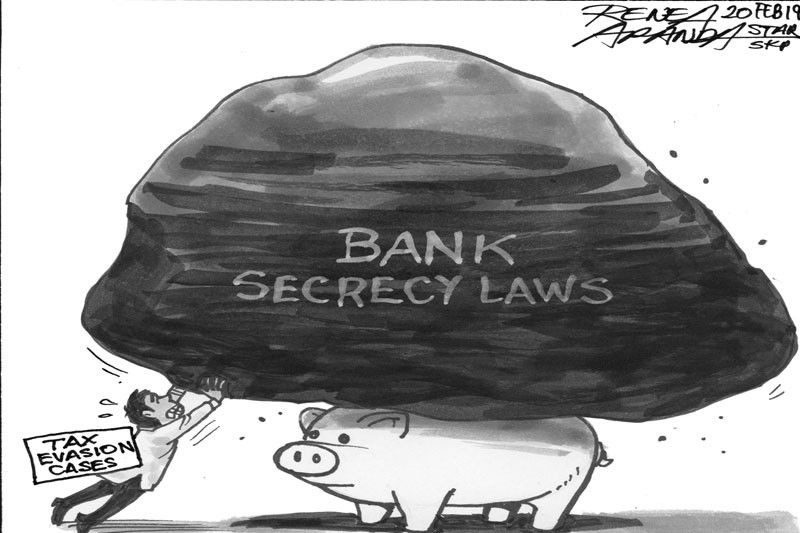 EDITORIAL - Veil of secrecy
(The Philippine Star) - February 20, 2019 - 12:00am
Through several administrations and for many years now, Congress has been urged to ease bank secrecy laws in connection with certain offenses. Lawmakers have consistently rejected the proposal, even if it fueled speculation that a number of them have self-preservation in mind.
Among the biggest advocates of easing bank secrecy laws are the anti-money laundering police and those tasked to go after tax evaders. Yet lawmakers have been unmoved, and have ignored criticisms that a number of them should be among the first to be probed for money laundering and tax evasion.
Now, perhaps the proposal can gather momentum in Congress, with President Duterte pitching for lifting bank secrecy laws in connection with fraud cases. Last week the President signed the tax amnesty law, but vetoed a provision granting general amnesty for all unpaid internal revenue taxes.
The general amnesty, the President said, was "over-generous" and could encourage more tax evasion unless safeguards are introduced. So he wants Congress to pass another general tax amnesty measure, which will include lifting bank secrecy laws in connection with fraud, and allowing the automatic exchange of information to ensure the truthfulness and accuracy of asset declarations.
The current batch of lawmakers can go through the motions of working on such a bill when they return to work in May after the elections. Such a measure, however, will have to wait for the new team in Congress for final approval.
The President can push for the proposal by making it part of his urgent legislative agenda when he faces the joint opening of the next Congress in his State of the Nation Address this July. His line-item veto sends a strong message about his push for lifting the veil of secrecy protecting dirty money. He must sustain the push.