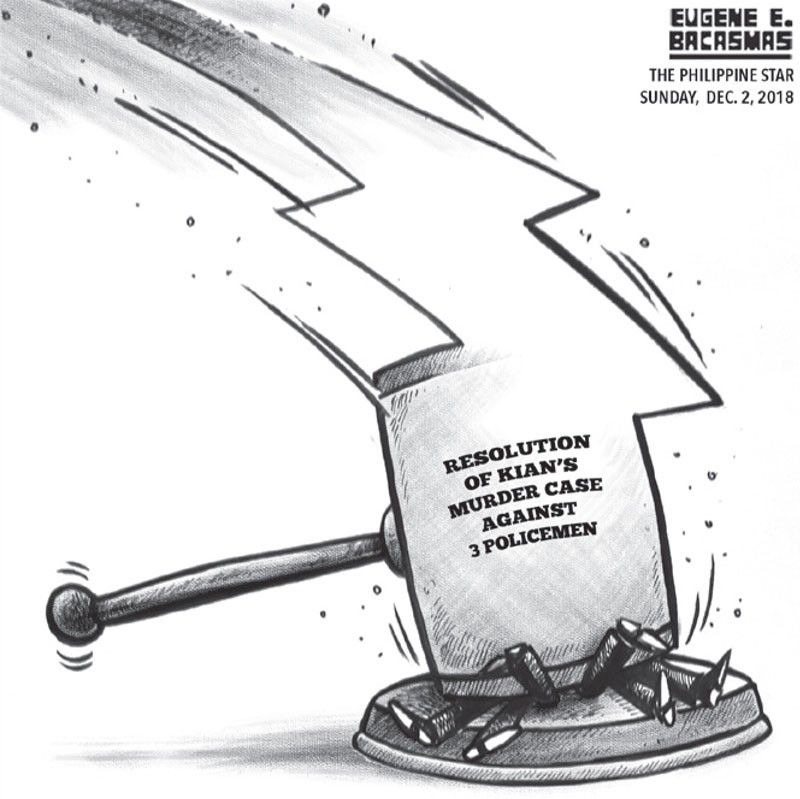 EDITORIAL - Swift justice for Kian
(The Philippine Star) - December 2, 2018 - 12:00am
There are two remarkable aspects in the resolution of the murder case involving teenager Kian Lloyd delos Santos. The first is that three policemen, two of whom were tagged as the direct killers, were convicted of murder and sentenced to life in prison by Judge Rodolfo Azucena of the Caloocan Regional Trial Court's Branch 125.
The second impressive aspect is the speed of adjudication. Delos Santos, a 17-year-old high school student, was among several individuals rounded up in his neighborhood in Baesa on Aug. 16, 2017 during an anti-drug sweep conducted by the Caloocan police. He was shot dead in what the police described as a case of resisting arrest – a story that was belied by video footage and witnesses' testimonies. It took a few months before a police probe and preliminary investigation were concluded and indictments brought against the police team before the Caloocan court.
Last Thursday, just six months after the start of trial, Judge Azucena convicted Police Officer 3 Arnel Oares and PO1s Jeremias Pereda and Jerwin Cruz of murder.
Six months to resolve a case is the speed of light in the country's judicial system. Government lawyers attributed the speed to the Supreme Court's directive for speedy trial. It clearly helped that closed-circuit TV footage provided evidence about the execution and it became a high-profile case.
The case must serve as a standard in the resolution of many other killings related to the war on drugs. The drug menace is real and deserves a strong response. But this should always be balanced with the need to wield state power with great care especially when it involves human life. One conviction alone would be a fluke and would not be enough to serve as a deterrent. To end abuses and impunity, speedy justice is awaited in many other drug-related killings.
Judge Azucena deserves the highest praise for the swiftness of justice in his court. Kian's relatives and friends, mourning over wounds that remain fresh, can only hope that the move toward a final ruling will be just as swift. This pace of justice must be the rule rather than the exception.