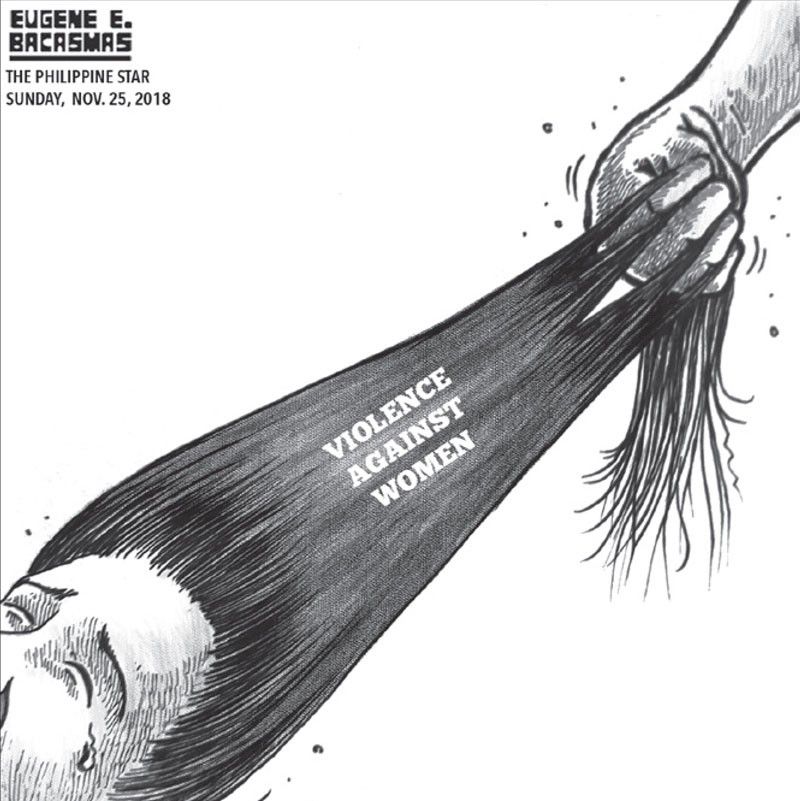 EDITORIAL - Violence against women and girls
(The Philippine Star) - November 25, 2018 - 12:00am
The Philippines ranks among the 10 best countries in the Gender Gap Index. Yet in recent weeks, police officers have been accused of raping in separate incidents the daughter of a couple arrested on drug charges, a woman apprehended for illegal gambling, and even a policewoman.
Teenage girls continue to be trafficked for sex and child labor. And despite the passage of tough laws against domestic violence, women and girls continue to suffer various forms of abuse.
In impoverished areas, women are unaware of the numerous laws for their protection. Even in upper income households, however, women are held back from seeking help for violent assaults due to the perceived stigma and shame attached to the attacks. Unfortunately, this failure to bring offenders to justice breeds impunity.
Elsewhere in the world, women and girls suffer worse forms of violence and abuse, including arranged marriages and genital mutilation. Girls continue to be deprived of formal education and women are given limited access to job opportunities in certain societies.
In South Sudan, a teenage girl was sold to a prospective husband in what is tantamount to an auction, for the price of 500 cows, three luxury cars, $10,000, two bikes, a boat and several mobile phones. The auction has drawn global outrage, but local observers reportedly noted that the practice was not uncommon in that country.
The United Nations General Assembly approved back in 1993 the Declaration on the Elimination of Violence Against Women. Yet the attacks continue, derailing efforts to achieve gender equity, peace and the UN's Sustainable Development Goals. As the International Day for the Elimination of Violence Against Women and Girls is marked today, the UN reports that one in three women and girls will experience physical or sexual violence in this lifetime.
Nearly 750 million women and girls alive today were married before their 18th birthday; 200 million have undergone female genital mutilation. Only 52 percent of women in a union can freely make their own decisions about contraceptive use, health care and sexual relations. Among human trafficking victims worldwide, women account for 71 percent, with three out of four sexually exploited. Violence against women is considered as serious a cause of death and incapacity as cancer.
With this day's theme of Orange the World: #HearMeToo, there will be 16 days of global activism for ending violence against women and girls. The goal may seem elusive, but the effort to eliminate violence against women and girls must be unrelenting.