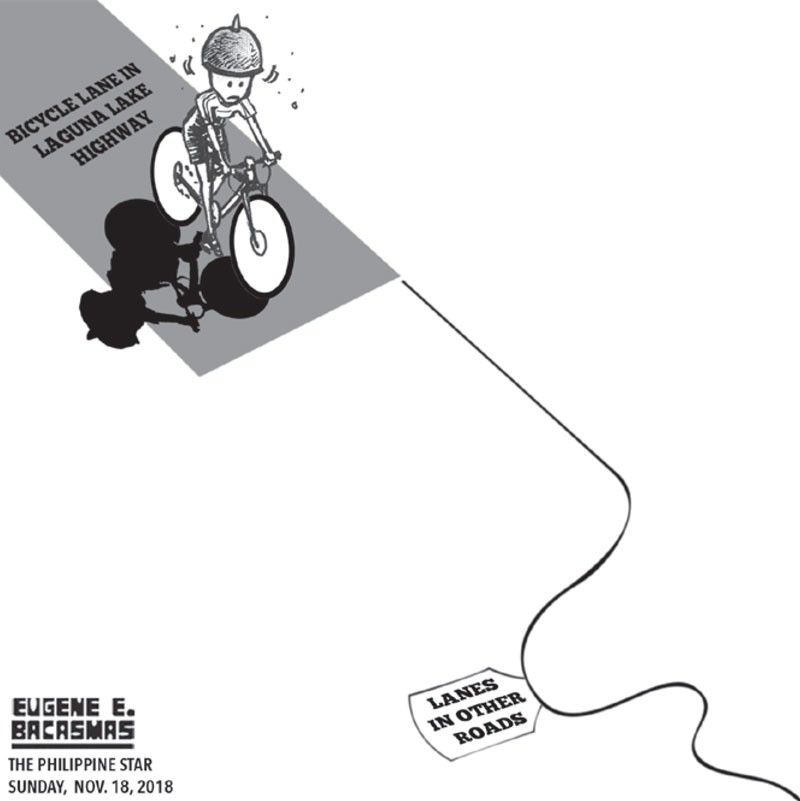 EDITORIAL - Bicycle lanes
(The Philippine Star) - November 18, 2018 - 12:00am
In several countries, special lanes for bicycles are ubiquitous and almost always designed into road networks. In the Philippines, particularly in crowded Metro Manila, the lanes are still rare enough for the opening of one to merit special mention in the news.
Especially one that is built in a scenic area, facing Laguna de Bay. The three-meter-wide bike lane completes the Circumferential Road 6, renamed the Laguna Lake Highway, whose widened area was opened last year by the Department of Public Works and Highways. The 10.7-kilometer toll-free highway connects Lower Bicutan in Taguig to the Rizal town of Taytay.
Similar bicycle lanes, such as the one on Manila's Baywalk, have been popular. The lanes usually run parallel to stretches allocated for strolling, jogging or walking pets. Such lanes are common in cities abroad that rank high in the global sustainability index.
Metro Manila is a long way from becoming sustainable, but every little step counts. The Pasig River is looking much improved these days, and efforts to rehabilitate it have earned international recognition. The river ferry service from the city of Manila to Marikina, which could help ease street traffic, deserves a boost.
Property developers are seeing the value of incorporating green spaces, natural lighting and comfortable natural air circulation in their designs. Solar power, although still expensive, is gaining popularity for home and office use.
The streets of Metro Manila and many other urban centers across the country have long been pedestrian-unfriendly, with land space maximized by private property developers and road builders. Sidewalks are narrow and dotted with utility posts. In several areas, vendors have taken over the sidewalks, forcing pedestrians to walk on the street.
So that bicycle lane along the Laguna Lake Highway is a refreshing sight. The lake itself, however, is calling for sustainability. Indiscriminate reclamation and too many fishpens, most of them owned by local politicians, are not only endangering the lake's ecosystem but are also destroying the capacity of the lake and its surrounding areas to function as a natural floodplain. The result is serious flooding in lakefront communities.
Whether the Laguna Lake Highway will be affected by flooding remains to be seen. The bicycle lane is also designed to function as an elevated dike against flooding. For now, the highway and its bike lane are seen to promote sustainability, by easing traffic and encouraging people to use non-polluting bicycles. The country can use more of such projects.