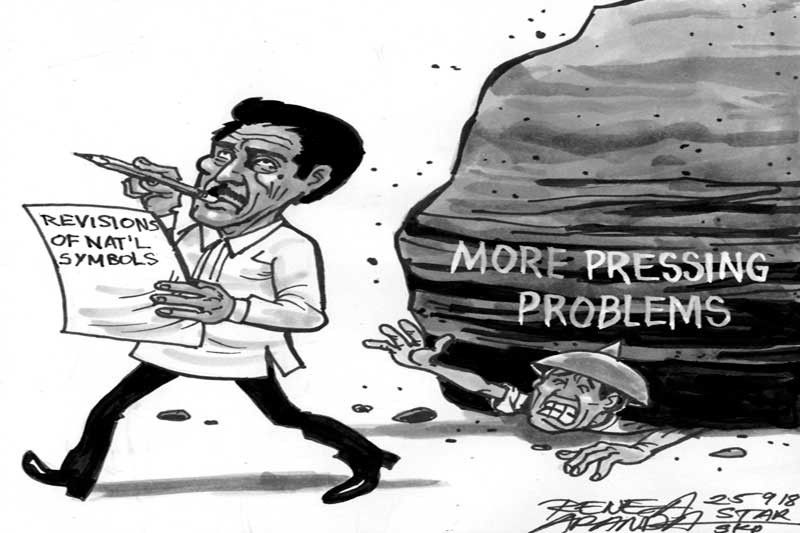 EDITORIAL - Changing the anthem
(The Philippine Star) - September 25, 2018 - 12:00am
The national anthem has undergone changes since Julian Felipe wrote the melody in 1898 and Jose Palma wrote the original lyrics in Spanish in 1899. Apart from being translated into English and finally Filipino, the beat of "Lupang Hinirang" has also been slightly modified.
Its current version, however, is now protected by Republic Act 8491, the 1998 Flag and Heraldic Code of the Philippines, and altering the anthem when it is sung in public can warrant a court indictment and penalties. Any change in the lyrics, as proposed by Senate President Vicente Sotto III, will require amending RA 8491 and must be approved in a public referendum.
Another senator has proposed to change the design of the flag, adding a ninth ray to the sun to represent Muslims. At least one historian has pointed out that this would destroy the historical significance of the design, which symbolizes the eight provinces suspected by Spain of joining the revolution against the colonial government.
If Congress approves the addition of a ninth ray, there is another valid concern: how much will it cost taxpayers to change all flags in government offices and on official documents? This leads to another question: why is any design change needed?
The same questions are being asked in the proposal to tweak the lyrics of "Lupang Hinirang." Specifically, Sotto is proposing to change the last line from the current one that declares the Filipino's readiness, when faced with an oppressor, to die for the country – ang mamatay nang dahil sa iyo – into one that vows to defend freedom – ang ipaglaban ang kalayaan mo.
Perhaps concepts of patriotism and heroism are evolving, and should be reflected in national symbols. Opponents of any change, on the other hand, point out that these symbols reflect significant events in the history of the nation and must be preserved rather than changed. National symbols can be dynamic and the debate over the possible changes is fine. But various quarters are also asking: with so many problems besetting the country and limited time for legislation, don't senators have more urgent things to do?