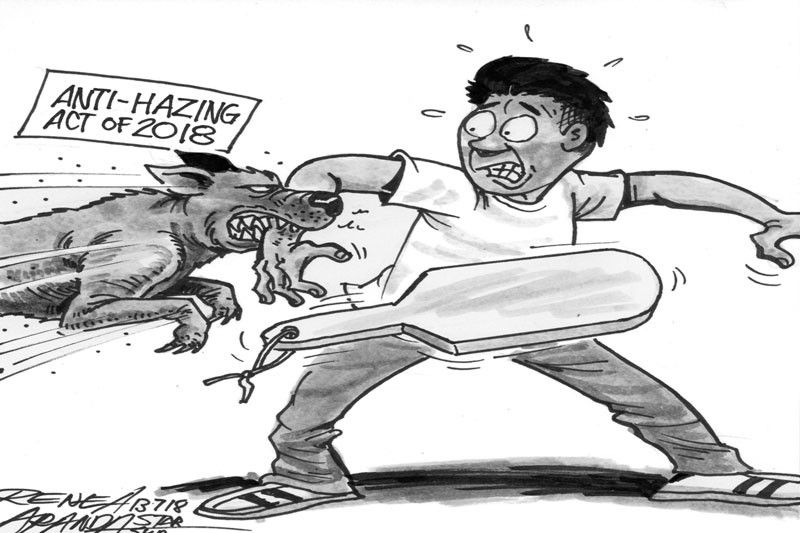 EDITORIAL- This time, a real ban?
(The Philippine Star) - July 13, 2018 - 12:00am
In 1995, or four years after Ateneo de Manila law student Leonardo Villa died in hazing rites conducted by the Aquila Legis fraternity, Congress passed Republic Act 8049. Those behind the law must have been members of fraternities themselves who underwent violent initiation rites in their youth. Instead of banning hazing altogether, RA 8049 simply regulated it.
Not surprisingly, violent and even fatal fraternity and sorority hazings continued even with RA 8049 in place. The law allowed "hazing or initiation rites" as long as proper notification was given to school authorities and organization heads. Even sororities in top universities subjected young applicants to degrading and violent initiation rites.
In September last year, Horacio "Atio" Castillo III, just 22 and a law school freshman at the University of Santo Tomas, became the latest victim in a long list of young men killed in violent initiation rites. Castillo died following a severe beating at the hands of beasts he had hoped would be his "brothers" in the UST law school's Aegis Juris fraternity.
As in other hazing cases, the fraternity members acted tough only when dealing with a helpless victim. Last May, after learning that they would be transferred from the custody of the National Bureau of Investigation to the Manila City Jail, the 10 toughies were reportedly reduced to tears.
Castillo's death prompted Congress to work on a new law against all forms of hazing, amending the travesty that is RA 8049. Last June 29, President Duterte signed RA 11053 or the Anti-Hazing Act of 2018.
The new law imposes a prison term of several years up to life and fines ranging from P1 million to P3 million on those who inflict psychological and physical violence and other forms of abuse on anyone applying for admission into a fraternity, sorority, and school or community organization.
Sen. Panfilo Lacson, a former national police chief who sponsored the measure, had called for an end to hazing. In his sponsorship speech, he said, "Awareness must be raised as to the fact that there is no unity, no brotherhood, no strength, no honor, no dignity and no respect in hazing. Hazing is merely violence and abuse."
Similar arguments were raised during deliberations on what would become RA 8049. The country can only hope that this time, the ban on all forms of hazing will be for real and will be fully enforced.