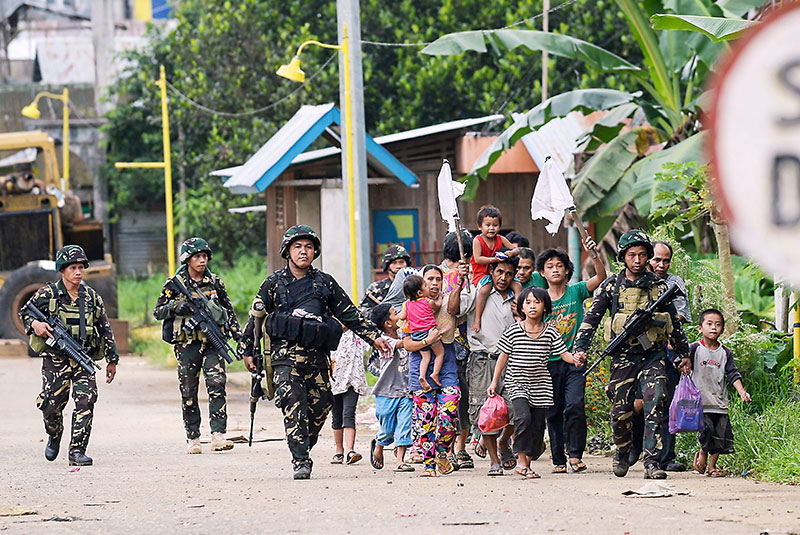 Marawi City: A year of valor and bravery
SHOOTING STRAIGHT
-
Bobit S. Avila
(The Philippine Star) - May 24, 2018 - 12:00am
It was only a year ago that the Armed Forces of the Philippines (AFP) got thoroughly tested by the Maute Group led by Omar Maute and Isnilon Hapilon and a thousand men when a team of policemen and military went to Marawi City on May 23, 2017 based on information that these two militant leaders were holed out in that city to arrest them. It was then that all hell broke loose and the Armed Forces of the Philippines (AFP) were taken by surprise that the Maute Group had prepared themselves for a long drawn fight all in the name of the Islamic State of Iraq (ISIS).
Actually, a couple of years earlier, we saw the Maute Terrorists raise the black ISIS flag somewhere in Mindanao and uploaded it on their Facebook page, but then Pres. Benigno "PNoy" Aquino III dismissed this report as not factual. Indeed, it is a matter of leadership. If Mr. Aquino ran after the Maute Group at that time, I doubt if they would have the time to stock arms and ammunition and food in strategic areas of Marawi. Call it a failure of intelligence and a failure of leadership by President Aquino.
A year ago, Pres. Rodrigo "Digong" Duterte had a planned meeting with Russian Federation President Vladimir Putin, which he had to cut short so he could be able to come home and be on top of the Marawi siege. In hindsight, we are so blessed to have Pres. Duterte as our Commander-in-Chief during the fight to regain Marawi City, which admittedly, our Intel group failed to inform the President that the Maute was able to stock firearms, ammunition, food in many strategic areas within Marawi City. Hence, the battle of Marawi City has become the longest urban battle in the modern history of the Philippines.
The Maute group militants attacked Camp Ranao and occupied several buildings in the city, including Marawi City Hall, Mindanao State University, a hospital and the city jail. They also occupied the main street and set fire to Saint Mary's Cathedral and the Dansalan College, run by the United Church of Christ in the Philippines (UCCP). The militants also took a priest and several churchgoers' hostages or used them as human shields.
The Philippine Air Force (PAF) went on unprecedented bombing raids within the heart of Marawi. Our air superiority gave the AFP a chance to dislodge the well-entrenched Maute Group. It really came to the point that the PAF expended most of their bombs, which the US military restocked with new bombs. It was the bombing campaign that took out many well-entrenched snipers holed out in many buildings in Marawi City.
All told, after five months of fighting, the Marawi siege claimed a total of a thousand lives, 700 plus were armed terrorists and 160 were government soldiers while 47 were civilians. The dead also included Omar Maute and Isnilon Hapilon the leaders of the Maute Group that hoped to establish a Caliphate in Marawi City. At least now the ISIS know that the next time they try to take the Philippines, they will have to contend with our Armed Forces of the Philippines (AFP) who now have a great reputation of the best urban fighters and the most tested soldiers in South East Asia.
But no talk of Marawi would be complete without mentioning the exploits of 24-year old Private First Class Dhan Ryan Bayot. This incident happened on the next day that the Maute Group occupied Marawi City, exactly a year ago when he and his fellow soldiers were ambushed near the Mayor's house. That ambush killed five of his fellow soldiers and when he was cornered, Pvt First Class Bayot radioed his commander "Bomb my location." In the end, even the Maute terrorist surrounding them were killed.
Four days later, his father, Sgt. Larry Bayot of Division Reconnaissance Company of the 1st Infantry Division found his body but it bore no bullet wounds, but his head was bashed and his body bore marks of being slashed by a sword. Pvt. Bayot is without any doubt a true Filipino hero who fought and died for his country. Incidentally, the word "Bayot" in the Cebuano language connotes being "Gay". But this Bayot showed exemplary courage and valor! I hope that someday the AFP would erect a statue of this brave young Filipino soldier because he truly is the epitome of the Filipino soldier.
I heard that some 641 officers and soldiers who fought in Marawi were promoted to the next rank in a ceremony held in Fort Bonifacio, while four colonels who served as company commanders during the battle received their first star as brigadier Generals. Thirty-six were promoted to master sergeant, 98 to technical sergeant, 103 to staff sergeants, 193 to sergeant and 211 to corporal. These are promotions for meritorious work in a combat zone. But all these are meaningless if we do not honor our soldiers who fought and died so that Marawi City would not become a caliphate, as ISIS would have wanted it to be. We are so proud of the Filipino soldiers!
* * *
Email: vsbobita@gmail.com.