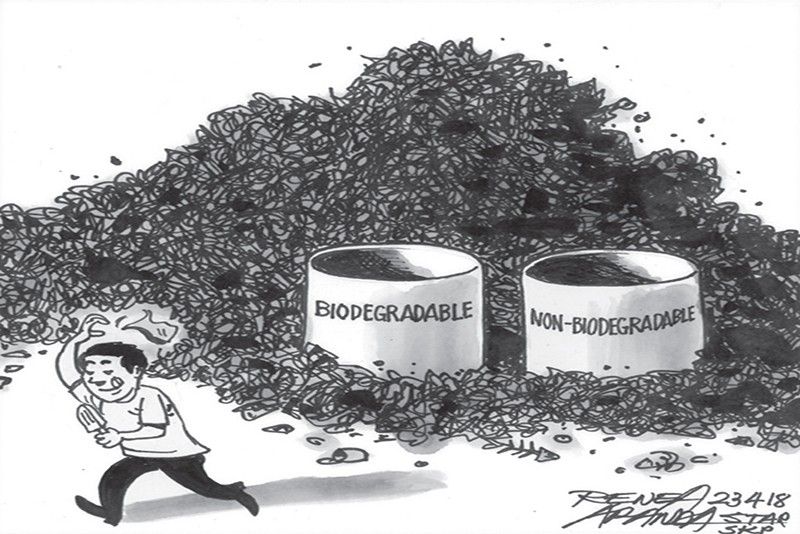 (The Philippine Star) - April 23, 2018 - 12:00am
The country joined the international community in observing Earth Day on April 22 as Boracay prepared for an unprecedented months-long shutdown to give way to a massive cleanup.
Across the country, many other travel destinations can use more aggressive action, although not the draconian measures being applied in Boracay, to stop pollution and protect the environment. The concept of sustainability has yet to take root in this country.
The worst pollution can be found in urban areas that are not deemed to be travel destinations. At the San Juan River in Kalentong, Mandaluyong yesterday, for example, truckloads of solid waste were collected as part of Earth Day activities.
This year's Earth Day theme focuses on curbing plastic pollution. As the experience in this country has shown, this calls for a nuanced, realistic solution – one that encourages plastic recycling, better waste management and a general attitude change toward garbage disposal.
Plastic remains indispensable in modern life. Put meat, fish, frozen goods or even leafy vegetables in a paper or eco bag and see what happens within a few minutes. The ban on plastic bags in several cities led to the widespread use of extra thick, double layer paper bags, and paper comes from trees. Supermarkets and wet markets ended up using thin plastic bags or wrappers anyway for wet, frozen and fresh goods before the items are placed in paper bags. Plastic bags are also the most convenient shopping containers for people who can only afford to commute and have no maids or drivers to carry their shopping bags.
Companies that manufacture plastic products such as PVC pipes rely on used plastic for their raw materials, and have expressed readiness to step up recycling efforts. The government can facilitate linkages among these companies, local government units, garbage handlers and community organizations to institutionalize plastic recycling.
Biodegradable plastic is also available, and some of the biggest companies are now using them. Single-use plastics can be phased out to make way for the new versions that are kinder on the environment.
The greenest materials, however, will still contribute to pollution if they are disposed of indiscriminately. The planet is polluted not just with plastic but also with non-biodegradable tin cans, bottles and metals. Unless people get rid of filthy habits, the planet cannot be saved.