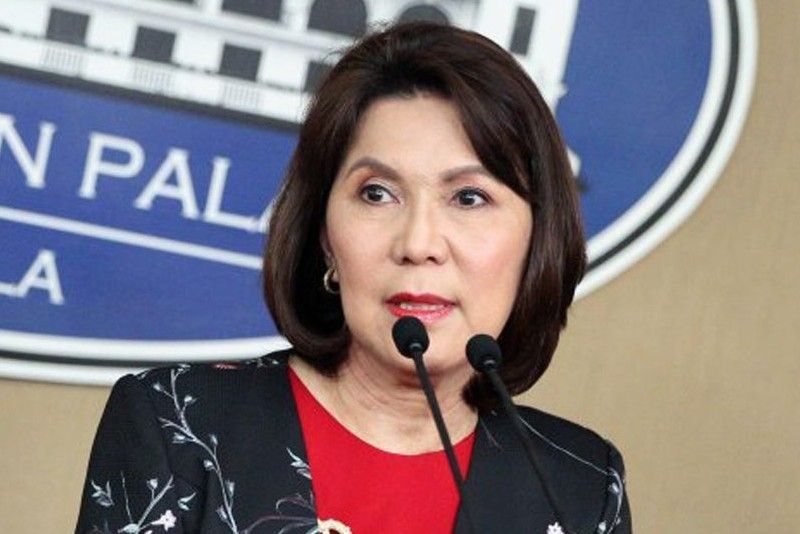 Wanda Teo as tourism head
FROM THE STANDS
-
Domini M. Torrevillas
(The Philippine Star) - April 3, 2018 - 12:00am
It took more than a year and a half for Tourism Secretary Wanda Teo to face members of the press who characteristically were hungry for reasons why the president chose her for the plum post. Who she? Is it because she is from Davao? Is it due to her being the sister of the well-known hard-hitting Tulfo journalists?
Well, she agreed to accept the invitation to speak at the Bulong Pulungan sa Sofitel media forum two weeks ago. Bulong Pulungan lead convenor Deedee Siytangco thanked Bobby Joseph, a tourism specialist, for convincing Ms. Teo to guest at Bulong.
She did not face the press, Ms. Teo said, because "I had nothing to show as my accomplishments." She dared not, knowing how the press can mess with her; already a complaint was raised over her frequent travels, with her make-up artist in tow. Malacanang quickly came to her defense, saying her position required traveling a lot, and no, the supposed make-up artist was her office assistant.
She turned out likeable – a Mindanaoan she is, in the first place. Pretty, and smartly dressed, she was a finalist in a beauty contest. She was a flight attendant with Filipinas Orient Airways and Air Niugini Airways – proofs that she was good-looking. She finished her BS in business administration at St. Theresa's College, Quezon City. Her being a Tulfo is I guess incidental.
She said yes, the president is a good friend; in fact he would talk to her about personal matters. Like when he told her that his first wife had asked for a divorce, and he said, he was a man, how could he turn down his wife's request for a separation? She also said yes, the president has, aside from Honeylet, another "wife," a younger one, but who is kept out of the public eye.
As to what she knows about tourism, she has been in the tourism business for 20 years. She owns Mt. Apo Travel and Tour Inc. – now probably the most popular travel agency in the south, through no fault of her own. Her responsibility of promoting travel to the Philippines has more than doubled. She had to convince people abroad to come to Mindanao, and now, at least by April, stop going to Boracay, until efforts to rehabilitate the place have borne fruit.
She had visited Boracay before its notoriety became front page news. "Sinisisi nila ang secretary for the mess (Boracay was in)." She saw inadequate waste management (the number of fecal coliform in Boracay's waters has reached 18,000 mpn (most probable number) per 100 liters, she said, when the number of fecal coliform should not exceed 400 mpn per 100 liters, buildings were constructed over wetlands and some protruded into the sea, roads were narrow, and huge and small structures were built on forest land.
She said the president told her, "promo ka lang," and that she will be working in cooperation with Environment Secretary Roy Cimatu and DILG Secretary Eduardo Ano.
She recommends that Boracay be closed to foreign travel for only two months. Long closure would affect foreign travel to the island. The National Tourism Development Program had projected 2016 to 2022 to lure 7.4 million foreign tourists to the country, a big chunk of them spending their holidays in Boracay. Teo said a total of two million foreign and local tourists visited Boracay in 2017 alone.
Teo said the presidential declaration of Boracay as in a state of calamity is necessary as that would prevent accidents related to the tearing down of establishments and massive diggings around the island.
She also said plans are afoot to propose the creation of a Boracay Development Authority to directly oversee developments on the island. "Otherwise, if you don't, you would be back to zero."
DOT Director for Region VI Helen Catalbas, who was also at the Bulong Pulungan session, mentioned developing other tourist spots in West Visayas, as in Iloilo, Capiz and Antique. Boracay, she said is not the only sun and beach in the Visayas.
Teo mentioned other alternatives would be Cebu, Bohol, parts of Palawan, Siargao and even Pagudpud in Ilocos Norte.
Teo observed that generally travel advisories are not affecting tourist arrivals, especially the Chinese, "wala silang pakialam sa gulo dito."
Teo's last words to local executives: "Take care of your area, do not destroy nature, avoid what happened to Boracay."
* * *
A day with Gil and Prime Quizon and their businessman son Geoffrey in their farm in Kingsville subdivision, Antipolo, was like a year of fun and frolic, good food, and instructive lessons in organic farming.
I had met the couple years ago, and had been buying their main product, turkey, as the center point of my family Christmas lunch. Last week, I brought two friends to the turkey farm – Louie Florendo, an environmentalist, culinary chef and artistic innovator from Baltimore, Maryland, and Agnes Robles, one of my many soulmates and a gardening enthusiast.
Louie had come to look at the turkey farm for possible support from the Phil-American Foundation which funds small enterprises engaged in sustainable projects.
Gil took us around the 1.7 ha. farm – the first stop being the open-air high-fenced cages large enough for the colorful, cackling turkeys to roam around in. On any given day, there are 2,000 of the gallinaceous bird; by December, a flock of them would end up at the Christmas tables of private homes and restaurants.
A swimming pool has been converted into a pond for tilapia, its water supply a continuous back-and-forth powered by a machine Gil, a former highly skilled Zuellig engineer, made himself. A few feet away were two aquariums of tilapia fingerlings, to be tossed into the pool weeks later. On a fraction of the domed roof over the pond were solar panels, which have resulted in a decrease in the monthly electric bills by P7,000. Crawling along the fence were cherry tomatoes, as sweet as they can be.
The turkeys and fish, as well as the free-range chickens skittering around the farm, are fed with organic matter. "Everything we grow here is organically grown," said Gil. He pointed to mounds of dried leaves which he would grind (the grinder he made himself) into compost and fertilizer, and, together with vegetable cuttings from Prime's kitchen, use to fatten vegetables and herbs he would distribute at supermarkets, and feed the fish and fowl.
Here and there are plots of herbs and green vegetables which Gil and just a couple of helpers tend, and which Gil personally distributes in nearby supermarkets. From the garden Prime, a sharp, kumon school owner, plucked greens to serve along with the fried tilapia, turkey sisig and adobo flakes, tinolang manok, and buko juice. For our merienda, we had simply delicious turkey patties.
It was a day to be long remembered. We bade the Quizons goodbye, and said we look forward to being invited to another feast.
* * *
Email: dominitorrevillas@gmail.com.