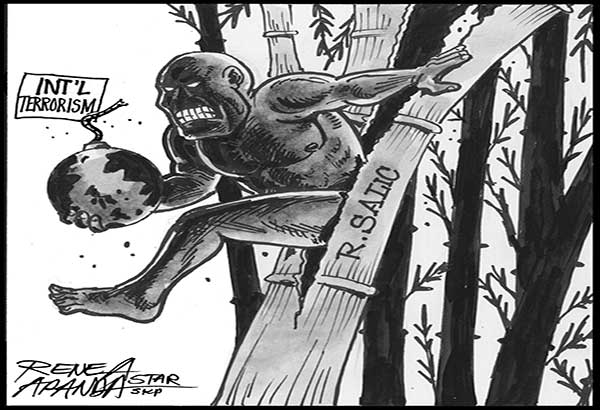 EDITORIAL - Breeding ground
(The Philippine Star) - October 8, 2017 - 4:00pm
The Department of Justice has started processing a request from its US counterpart for the extradition of a physician arrested in connection with a jihadist plot to attack several targets in New York. Russell Salic, according to the US Justice Department, described the Philippines as "a breeding ground for terrorists."
The statement is not entirely an empty boast. Foreign governments have raised concern about the growth of Islamist extremism in the Philippines and its Southeast Asian neighbors particularly Indonesia and Malaysia. The man convicted of organizing the first attack on the World Trade Center in downtown Manhattan, in which a truck bomb was set off beneath the North Tower in February 1993, plotted the attack partly in Manila. Al Qaeda chieftain Osama bin Laden's brother-in-law was suspected of using an Islamic charity in Mindanao for terrorist financing.
Today the military is battling Maute terrorists linked to the Islamic State in Marawi. With ISIS on the run from its former strongholds in Iraq and Syria, there are concerns that the group may try to relocate to Southeast Asia, where the Qaeda-linked Jemaah Islamiyah operates together with the Abu Sayyaf and the Bangsamoro Islamic Freedom Fighters.
The Philippine government must reassure the world that this will not happen. Salic, according to the US Justice Department, had reportedly said terror laws in the Philippines are "not strict" compared to countries such as Australia and the UK.
"Terrorists from all over the world usually come here as a breeding ground for terrorists ... hahahaha... But no worry here in Philippines. They dont care bout IS ... Only in west," Salic was quoted as saying.
Salic is not entirely off the mark; JI bomb makers have conducted training in Mindanao, and several foreign jihadis have been killed in the fighting in Marawi. The Philippines has a law against terrorism, but it includes safeguards against human rights violations so stringent that law enforcers can go to prison for many years even for honest mistakes.
Not surprisingly, the Human Security Act has remained largely unenforced. It needs a review by Congress if the terrorist threat is to be contained. All countries face the threat of terrorism these days. What sets countries apart – and reassures citizens, foreign travelers and investors – is the state's capability to deal with the threat. The Philippines cannot afford to be found wanting.