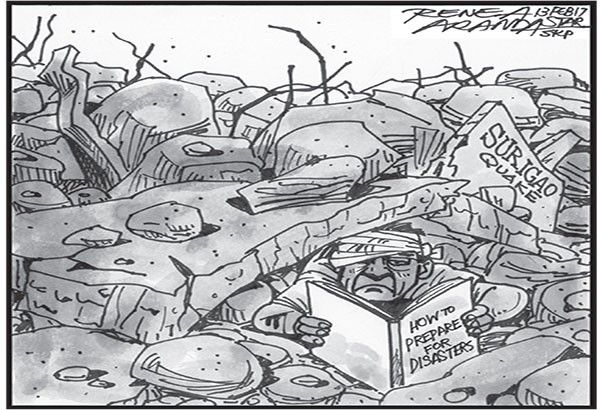 EDITORIAL - Disaster in Surigao
(The Philippine Star) - February 13, 2017 - 12:00am
Residents huddled in the streets on Friday and Saturday night and formed long lines yesterday for food and water as aftershocks continued to rock Surigao. The 6.5-magnitude earthquake that hit the province and neighboring areas late Friday left six dead and over 200 injured. Homes, office buildings, roads and bridges were damaged, disrupting water and power supplies.
It was reportedly the most powerful earthquake to hit the province since the 1800s, and the first deadly one in the country since a 7.1-magnitude quake in October 2013 in the Visayas killed about 220 people and destroyed several centuries-old churches in Cebu and Bohol.
The scenes of destruction and human suffering in Surigao should remind authorities about the need to be constantly prepared for this natural disaster especially in Metro Manila. The country lies along the Pacific Ring of Fire and has suffered some of the world's worst earthquakes that have left thousands dead.
Seismologists have given ample warning that the Marikina Valley Fault is ripe for movement. The fault system has two segments: the 10-kilometer-long East Valley Fault that cuts through Rodriguez and San Mateo in Rizal, and the West Valley Fault, 100 km long, which traverses parts of Bulacan through Quezon City, Marikina, Makati, Pasig, Taguig and Muntinlupa in Metro Manila; San Pedro, Biñan, Sta. Rosa, Cabuyao and Calamba in Laguna; and Carmona, General Mariano Alvarez and Silang in Cavite.
The Philippine Institute of Volcanology and Seismology has released an atlas of the fault lines, where residential, commercial and industrial areas are located. These areas cannot afford to take the warnings for granted.
While science has not developed the capability to accurately predict when an earthquake will strike, seismologists take cues from earth movements along the Ring of Fire and calculate probabilities. And all experts agree that the West Valley Fault is ripe for the Big One – an earthquake of about 7.2 magnitude.
Studies in recent years have indicated the extend of the destruction such a quake might wreak in the nation's most densely populated region. The studies also agree that Metro Manila is ill-prepared to handle such a calamity. Improvements in preparedness have been made since the warnings were first aired, but much more can be done. The earthquake in Surigao should give urgency to intensifying the efforts.