EDITORIAL - Economic repercussions
January 10, 2017 | 12:00am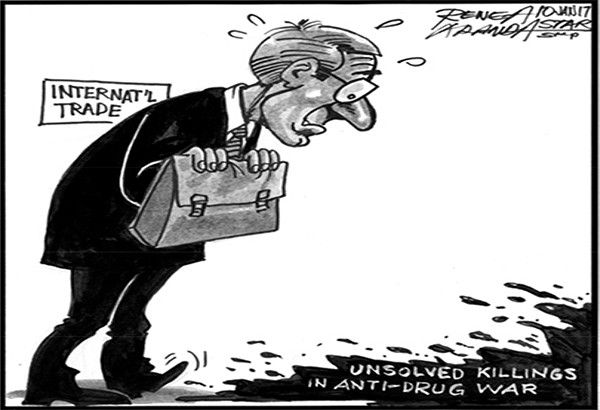 Trade officials are warning that restoring capital punishment can have economic repercussions for the country. Among others, the officials say, it could cost the country its preferential trade status with the European Union.
Under the Generalized System of Preferences or GSP+, which the Philippines has enjoyed since 2014, the country can export duty-free to the EU a total of 6,274 products. While trade officials lamented the possible loss of GSP+, they said the country could live with the regular GSP, which allows the duty-free export of 2,442 Philippine products and reduced tariffs for 3,767 others.
Trade officials may still relax at this time. Although President Duterte is pressing his congressional allies to restore capital punishment, opponents have vowed a strong fight against it. And even if the death penalty is restored and GSP+ is withdrawn, the country can still strengthen trade ties with the EU with the right products and policies.
It's not the return of capital punishment that should worry trade officials, but the continuing drug-related killings. In this part of Asia, only the Philippines and Cambodia have abolished capital punishment. But EU trade levels with Asian countries led by China and Japan are way above the levels with the Philippines. The United States continues to carry out state executions so it cannot react negatively to the return of capital punishment in this country.
What is unique to the Philippines is the ongoing killing spree, with more than half of the deaths attributed by authorities to vigilantes. The government can protest all it wants, but the deaths are being portrayed as extrajudicial killings, with those responsible going unpunished and with police investigations looking for the most part to be perfunctory. Apart from foreign governments possibly reassessing trade ties with the Philippines, private investors and even travel industry players have expressed concern about the deadly violence.
Such concerns may be eased if the government can also show that alongside its crackdown on the drug menace, there are genuine efforts to strengthen and uphold the rule of law, respect civil liberties and avoid the miscarriage of justice. These are not happening at this point. If the situation remains unchanged, trade officials can seriously worry about the economic fallout.