Marlito and the promise of the 4Ps
Marlito Soriano Jr. made it to the 2015 dean's list at the end of his first semester at Northeastern University in Boston. Though this is hardly the stuff of general circulation newspapers, for several reasons it remains newsworthy. For one thing, Marlito is a B'laan from General Santos City in South Cotabato. For another, he was once one of the more than one million poor Filipinos benefitting from the Department of Social Welfare and Development's (DSWD) Pantawid Pamilyang Pilipino Program (4Ps), the government's flagship anti-poverty program.
By no means does every family benefitting from the 4Ps end up with a child going to college at a prestigious American university—we'll look at more of that journey below—let alone the son of a laid-off construction truck driver who's getting by these days through odd jobs and tricycle-driving. Marlito is also the family's eldest, who, according to Filipino tradition, is expected to provide for his five younger siblings as well.
He takes his role as kuya seriously too. During his high school years, he worked odd jobs to help see his family through dire straits, helping put food on the table and adding to the family's ability to keep his siblings in school.
??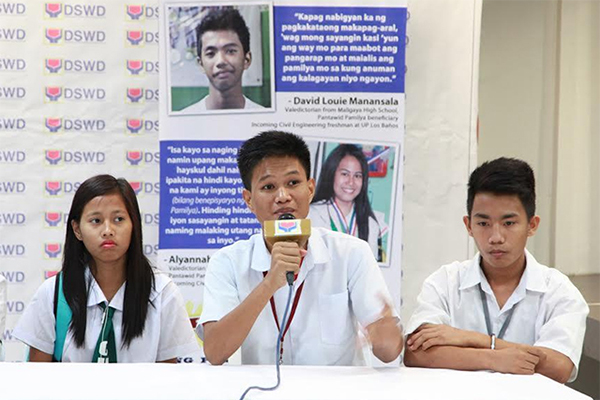 ??
Marlito speaking to reporters during a press conference. DSWD
However, not only did he graduate high school in GenSan; he did so as a valedictorian. After graduation, he looked for a job, hoping that, in addition to helping feed his family, he might save enough money to someday attend college. Being B'laan—one of the Indigenous Peoples of Southern Mindanao—and coming from a poor family, not to mention living in one of the poorest regions of the country, didn't make things look particularly promising for his future, despite his obvious intelligence and diligence.
In Marlito's case, with all the cultural, geographic and economic barriers he had to overcome, it was a scholarship that made a bachelor's degree in accountancy from Northeastern University possible—but it was the 4Ps that made his high school graduation a reality in the first place.
As the government's flagship poverty alleviation program, these conditional cash transfers invest in the country's human capital by keeping poor children in school, giving medical assistance to them and their mothers, and extending immediate financial support to their families.
??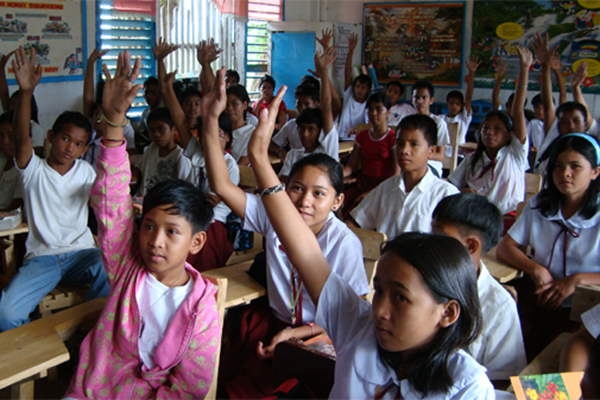 ??
The Pantawid Pamilyang Pilipino Program offers poor Filipino children and their families education and health care. DSWD
Three of Marlito's siblings are also covered by the 4Ps, according to his mother Juanila, saying that it helps them a great deal. Each family is allowed to have up to three children receiving benefits—from P500 up to P1,400 monthly per household, depending on the number of eligible children. The program requires children aged 3 to 18 to maintain at least 85-percent class attendance per month. Pregnant women are required to avail of pre- and post-natal care; and the delivery of their babies must be assisted by skilled health personnel. Parents are also required to participate in "family development sessions."
One of the 4P cash grants directly benefitting young children is the education grant. Each beneficiary household receives P300 per child every month for 10 months, while high school beneficiaries receive P500 a month.
According to Social Welfare Secretary "Dinky" Soliman, the DSWD expanded the program's coverage in 2014 to include those aged 15 to 18 to encourage children-beneficiaries to earn their high school diplomas, and thus to have a higher rate of employability. This will also discourage boys from going into gangs. In February 2015—with the high school expansion—the program registered 1.01 million 15 to 18-year-old children nationwide. Of these, 252,276 are in grade school, while 754,374 are in high school.
As encouraging as those benefits are, they are still a long way from an all-expense-paid university scholarship. Marlito's four-year academic sojourn at Northeastern University—which includes tuition, books, airfare, room, board and even visa—is funded by the International Container Transport Services, Inc. (ICTSI) Foundation.
I frequently write about the need for the private sector—representing over 85 percent of our economy versus the government's 15 percent—to "step up" in the arena of "inclusive growth." But I seldom find the space to describe just what that might look like. ICTSI offers a credible example. Albeit on a much smaller scale, the ICTSI Foundation involves itself in education at most of the same levels as the national government, from the community level up to the national and beyond. The foundation provides tools and gear—such as sewing machines—to strengthen the Department of Education (DepEd)'s Technology and Livelihood Education program, and to support its Alternative Learning Systems program, from donating local supplies all the way to participating in national conferences.
In the case of Marlito's scholarship—in which the DepEd was likewise consulted—there is a considerable investment involved in his US education. By accepting the scholarship, the fortunate young man agreed to work for ICTSI for two years upon graduation. In today's job market, knowing you're going to be employed at all is not such a bad deal. As for the company, it would get a well-trained employee with strong local connections. Any private-sector corporation should readily be able to see the mutual benefits of that setup. But what about the foundation's community efforts? How does the private sector benefit from that?
In the case of ICTSI, the benefits are easy to see. Besides its General Santos Terminal, it also runs the major import terminals of Manila and Subic, and just about every other container facility in the country—a huge portion of our consumer goods pass through those terminals—so, as the population of paying customers nationwide grows, so does the income of ICTSI. Here is an example of how a foundation can play a role in benefitting the public good.
In the meantime, the DSWD is striving hard to succeed with the 4Ps. Conditional cash transfers have worked well in Latin America, and the Asian Development Bank has compared them, as a development tool, to a "magic bullet." In one fell swoop, not only are literacy rates significantly improved, but also maternal mortality and neonatal mortality rates—which is why the program has been so successful worldwide.
To be sure, the 4Ps are beset with allegations of "beneficiaries" who are not really poor; deficient supervision in household registration; questionable use of funds; not to mention Commission on Audit reports of underpayment or lack of payment to beneficiaries, as well as "double entries" in the program. Leftist critics even deride the 4Ps as a "dole-out strategy that has failed to pull Filipinos out of poverty." And a social watch group claimed there has been no significant evidence of lowered poverty rates among the program's targets and that it has not made a dent in reducing overall poverty, though it acknowledges the 4Ps inducing minimal positive effects on school enrollment and maternal health among beneficiaries. Lastly, there are concerns that the program is vulnerable to corruption and partisan politics.
But these issues are already being addressed. Attempts at minimizing bureaucratic inefficiencies and corruption have been made. Secretary Dinky Soliman recently noted that the DSWD is in the process of delisting the non-poor included in the program and updating the National Household Targeting System for Poverty Reduction, the database used for the identification of beneficiaries and their locations. It has also consulted with other government agencies and civic organizations to help improve the program.
Given all the challenges the DSWD faces, they may not be able to achieve all the gains in inclusive growth we would like to see. That's why a case like Marlito's matters. Some might say that his story is an exception, which may well be the case. But it also shows us what can happen when the private sector and the government work together, forging conditions to build better futures for our nation's poor.