Dealing with poverty: PNoy at the homestretch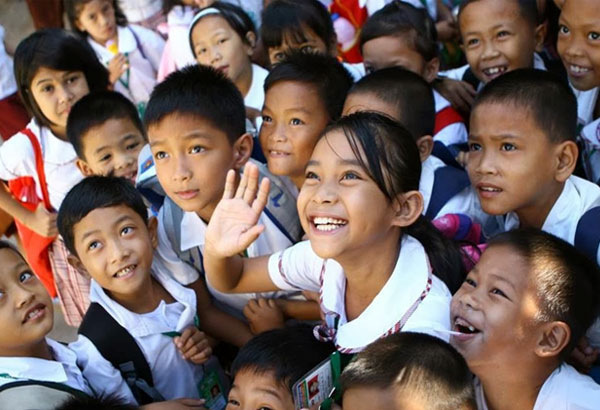 Around eight million children are covered by DSWD's Pantawid Pamilyang Pilipino Program (4Ps). Photo: PIA-Western Mindanao
If politics were a basketball game, the Aquino administration would be in its final quarter—rallying hard in its last nine months to make sure it gets a win before the closing buzzer goes off. Desiring not only to leave behind a solid legacy but also to create a positive impact on the lives of the poor, it has crafted a number of poverty-reduction programs over the past five years.
Indeed, during Pnoy's term alone, budget allocations for social services reached a high 34% of National Government Expenditure. This far surpasses his predecessors, such as Marcos at only 21.9% or GMA at 28%.
Today, there are two core poverty-reduction programs being implemented under the current administration: the Pantawid Pamilyang Pilipino Program (4Ps) and the Kapit-bisig Laban sa Kahirapan—Comprehensive and Integrated Delivery of Social Services (Kalahi-CIDSS). These two, which are both under the Department of Social Welfare and Development (DSWD), receive significant government funding. Around eight million children aged three to 14 have been covered by the 4Ps, while Kalahi-CIDSS has targeted more than 300,000 households in 486 poor municipalities nationwide this year alone.
Just this week, during the APEC summit in Cebu, Axel van Trotsenburg, World Bank vice president for East Asia and the Pacific, observed that these national investments in quality education and providing social protection for the poor stand out among the key policies to address rising inequality in the Asia-Pacific region as a whole.
But despite the huge number of beneficiaries, the government continues to struggle to keep the poverty incidence rate low. In 2014, the Philippines recorded a 25.8% poverty incidence rate—an increase of 1.2% from 2013. Looking at it from the perspective of human life, this means that more than 25 million Filipinos are living below the poverty threshold. So never mind that we rank only 79th on a list of 162 countries with the highest poverty percentage and thus only have what might be considered to be an "average" poverty level. Millions of our kababayan still living below the poverty threshold today are themselves a clear call to action.
This is why many Filipinos—not surprisingly—have given up hope of seeing poverty reduced in their lifetime, and have given up on the government's ability to improve their lives, especially those who live in the poorest provinces, where government services are barely felt. And this is also the reason why the Aquino administration has embarked upon a comprehensive program that it hopes will improve lives in the poorest provinces in the country: the Accelerated and Sustainable Anti-Poverty Program (ASAPP).
ASAPP was crafted in 2011 by the Human Development and Poverty Reduction Cabinet Cluster (HDPRC). The idea was to promote inclusive growth and eliminate poverty in the ten provinces in the country with highest poverty magnitude (high number of poor families) by creating sustainable employment and income-generating opportunities for the poorest of the poor. These provinces are Sulu, Pangasinan, Quezon, Camarines Sur, Negros Occidental, Iloilo, Cebu, Leyte, Zamboanga del Sur, and Davao del Sur. These provinces were selected because their potential to develop has been hampered by their respective population size.
Some might say that these efforts are akin to a student cramming before an exam. That this is too-little-too-late—an effort that will not reap any significant results—and that government should focus instead on land reform, increasing foreign investments, strengthening manufacturing, fighting corruption, and improving infrastructure.
But these very valid concerns are already being addressed by the Aquino administration. Nor is this program—as outlined above—the only anti-poverty effort being made. What the government hopes to bring to people through ASAPP is urgent but sustainable assistance in the poorest provinces. Indeed, some government efforts through ASAPP, have already yielded positive, if modest, results. One of which is a heartening story shared by the Bureau of Fisheries and Aquatic Resources (BFAR) on fisherfolk.
The story is about a family man in the coastal town of Maimbung, a fifth-class municipality in the province of Sulu. Maimbung is one of the poorest municipalities in the country, pegging a high poverty incidence of 56% in 2012. Fishing is one of the major sources of livelihood in Maimbung, with at least 4,395 fisherfolk among its 6,629 households, which represent a total population of 28,445 people.
Umban Intul, a 60-year-old Tausug fisherman in Barangay Ipil, is a father to seven children—two of whom are in college, two in high school, and three in grade school. His income has come from fishing and growing seaweed for almost 40 years. However, Umban claims that his income as a fisherman and seaweed grower was not enough to provide for his family. He admits that he used to cut mangrove branches to make charcoal for extra money, even though charcoal only sold for eight pesos a bundle.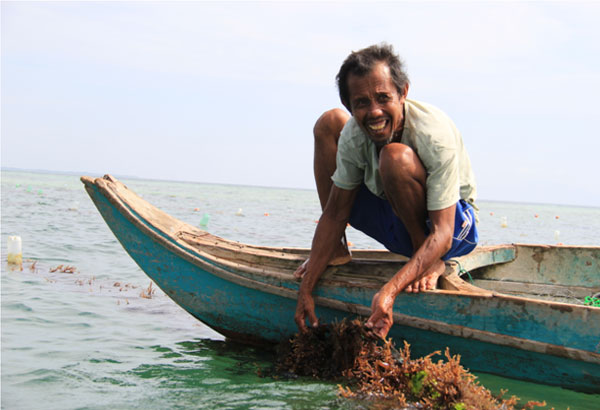 Umban U. Intul is a Tausug fisherman and native of Barangay Ipil, Maimbung, Sulu. Photo: BFAR
Umban says he was willing to do anything to provide a decent living for his family. In fact, many of his neighbors and friends call him "Kutuh Dagat"—meaning "very resourceful"—because they witnessed how hardworking and resourceful he has been in trying to provide for his family.
"I want to see my children succeed in their chosen careers. But my income has not been enough to help me reach my dreams for my family."
This is why Umban couldn't contain his joy and gratitude when he was chosen by BFAR to be one of the 300 fisherfolk beneficiaries in his town. Umban was given gillnets, fish and crab pots, and additional seaweed farm implements, such as floaters and seaweed stilt dryers.
"I am very grateful to BFAR and other government agencies for their continuous support to the Tausug community. I will do my best to improve my livelihood and sustain my family with all the support I have received from the government," Umban said during the turnover ceremony organized by BFAR's Provincial Fisheries Office in Sulu.
Umban currently manages a seaweed farm of two hectares, which can produce as much as 12,000 kilograms of dried seaweeds and can generate P300,000 in total revenue. With his increased profit, Umban is now more than able to provide for his family.He recently bought a solar panel,now his family's main source of power at home.
"We were able to buy a solar panel. We also bought a television and a cellphone," Umban shared quietly, but also with some pride.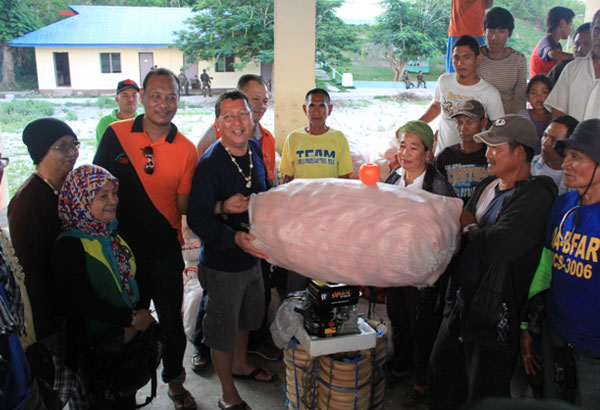 Beneficiaries from Panglima Tahil receiving their fishing gear through ASAPP. Photo: BFAR
In August 2015, BFAR led the Sulu cluster of ASAPP in bringing livelihood interventions and government services closer to the poor. A series of "livelihood caravans" by various local and national government agencies were held in the municipalities of Maimbung, Parang, and Panglima Tahil. These livelihood caravans, a major component of the ASAPP in Sulu, included livelihood support to beneficiaries and on-site training.
A total of 1,246 fisherfolk in the three municipalities have now benefited from the ASAPP. They were all provided with payaos (floating artificial reefs or fish-attracting devices), fishing boats, pump-boat engines, gillnets, fish pots, other fishing gear, and farm implements for seaweed.
BFAR National Director Atty. Asis G. Perez, who was present in all three caravans in Sulu, said that the government intends to make the people of Sulu feel that they are not being left behind and that they directly benefit from the country's economic growth. Aside from this, he also assured the fisherfolk that the government's assistance would not end by merely providing them with equipment. He said that BFAR is already looking into possible post-harvest programs to help fisherfolk bring their catch to market and maintain the quality of their catch so that their hard work would translate to higher incomes.
"When we have enough catch, the next question is where to bring the produce. How do we bring our catch to the right market? How do we assign value to our catch? How are we going to maximize profits from our catch? We have to link the product to the market," Atty. Perez said, noting that failure to process and sell the fisher's produce at the right price would not improve their living conditions.
Sustaining government anti-poverty programs in Sulu remains a challenge. Despite—or, perhaps because of—ASAPP interventions, the province remains vulnerable to the Misuari-led Moro National Liberation Front and the Abu Sayyaf Group (ASG). At any time, these groups could engage the military in a firefight. Worse, the ASG is notorious for its kidnap-for-ransom operations in the area, victimizing locals and foreign visitors alike. Even the Provincial ASAPP caravan has been affected—BFAR and its partner agencies reportedly could not go to other island municipalities because of security concerns.
BFAR is only one agency implementing ASAPP, which is an inter-agency program implemented by various government agencies. The question now is: will ASAPP give us better and sustainable results? Will it make any difference to the lives of beneficiaries? Umban is certainly one among thousands who has been helped by ASAPP. As the program continues to reach more poor people, I expect to hear and write more stories about how their lives have been shaped. Still, there is much work to be done for the government to achieve its goal of significantly reducing poverty in the remaining time it has left.
The author would like to thank the Bureau of Fisheries and Aquatic Resources (BFAR) for their assistance with this piece.