QC gov't dismisses policeman for shooting man during melee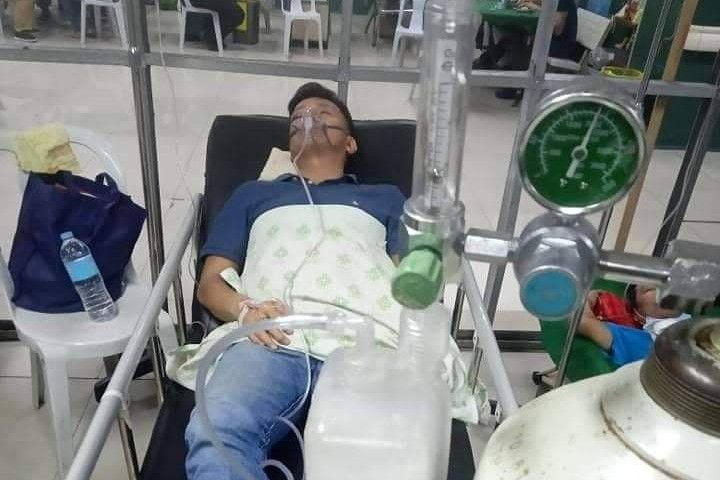 MANILA, Philippines — The Quezon City government People's Law Enforcement Board dismissed a policeman for shooting a man during a scuffle using his service firearm while the election gun ban was in effect in a barangay in the locality,
In a 10-page decision, the Quezon City People's Law Enforcement Board said it found Police Senior Master Sergeant Chester Garchitorena guilty of Conduct Unbecoming of a Police Officer and Grave Misconduct.
The city information office said the complaint against Garchitorena stemmed from an incident on the evening of February 18 around 11:30 p.m. when he was involved in a fight between complainant, Florose Buenafe, and the policeman's group while the complainant was out with his group of friends in Brgy. Greater Lagro.
What happened?
In his complaint before the PLEB, Buenafe said a confrontation started when Michael Parayno, one of the policeman's friends, gave barangay tanod Levee Reynoso, a friend of the complainant and an AFP Reserve Sergeant, the finger from afar.
According to Reynoso's counter-affidavit seen by Philstar.com, Parayno yelled, "Bullshit, you are staring at me!"
To ease the tension, Buenafe approached Parayno to apologize and escorted him to his car.
Parayno left the area but returned a half-hour later with his friends in three cars, including Garchitorena, and a melee ensued. In a CCTV video, Garchitorena was seen carrying a sling bag containing his government-issued firearm.
During the clarificatory hearing, it was established that Garchitorena shot Buenafe on his leg while his other friends mauled Reynoso, who eventually sustained a skull fracture. The police officer also pointed his gun at the victims point-blank.
A blotter report from the Quezon City Police District also seen by Philstar.com says that Parayno "rushed [at] the victim by aiding one another with intent to kill." It adds that Garchitorena struck the victim's chest with his pistol.
The victim's group also reported asking for help from other Barangay Public Safety Officers who allowed the suspects to escape in their cars.
Cop dismissed from service
Lawyer Rafael Calinisan, Executive Officer of the PLEB said that Garchitorena, who was assigned with the Criminal Investigation and Detection Group in Camp Crame, was dismissed from service with forfeiture of benefits and disqualification for re-employment in government service.
"What's more bothersome in this incident is that sina Buenafe na ang sinugod at binaril, siya pa ang inarestong walang warrant, ikinulong at kinasuhan. While the policeman went scot-free prior to this case. Just terrible," Calinisan said.
"The PLEB is open to the possibility of investigating this case further."
Calinisan noted that the incident happened when the gun ban was in effect. The gun ban took effect on January 9, 2022 and ended last June 8, 2022.
"We are very hopeful since the PLEB in our city is working. We support them in making sure that erring policemen are held accountable," Quezon City Mayor Joy Belmonte said.
Belmonte also said that she plans to award police officers who deserve commendation. "In QC we arrest erring cops but commend the competent ones," she said in Filipino. "The PLEB and the City Government intend to award deserving policemen soon, so that they may be emulated by their peers." — Franco Luna