Hundreds visit dolomite beach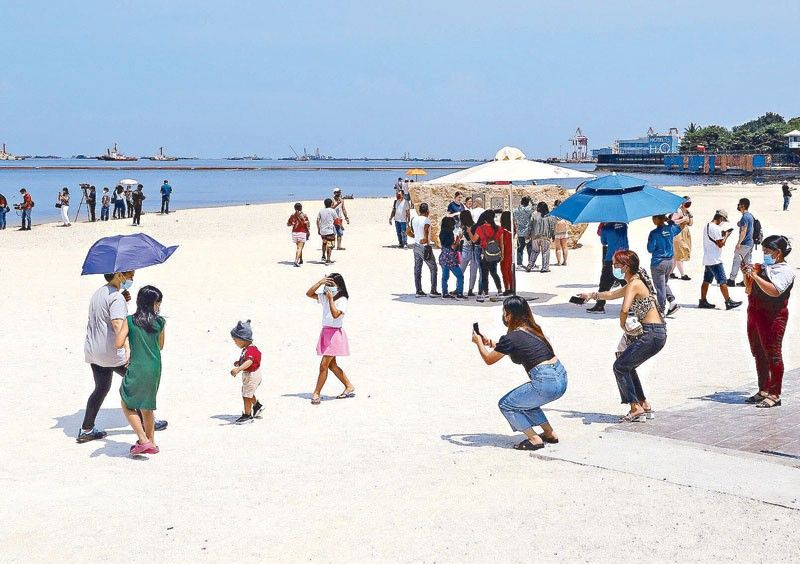 MANILA, Philippines — At least 300 people visited the Manila Bay dolomite beach as it reopened on Sunday, coinciding with the Independence Day celebration.
The visitors lined up as early as 3:30 p.m. to be on the beach for the afternoon opening, according to Manila Police District director Brig. Gen. Leo Francisco.
He said 160 police personnel were deployed to secure the opening of the artificial beach project.
Acting Environment Secretary Jim Sampulna, former environment chief Roy Cimatu and Interior Secretary Eduardo Año attended the opening of the beach, with the unveiling of a replica of a cannon at Fort Drum, a concrete fort shaped like a battleship in the channel of Manila Bay near Corregidor.
Manila Bay Coordinating Office executive director Jacob Meimban Jr. said the opening of the dolomite beach was successful.
The 500-meter artificial beach stretch is open daily from 6 a.m. to 6 p.m.
Swimming remains prohibited even as the fecal coliform level in Manila Bay has significantly improved from millions of most probable number (mpn) per 100 milliliters, Meimban said.
"Our water monitoring on June 6 showed that the coliform level is now at 920 mpn," he said.
"We are confident that in due time, swimming in Manila Bay will be allowed," he added.
The dolomite beach was shut down following a COVID super-spreader event in October last year when thousands visited the beach despite the threat posed by the pandemic.