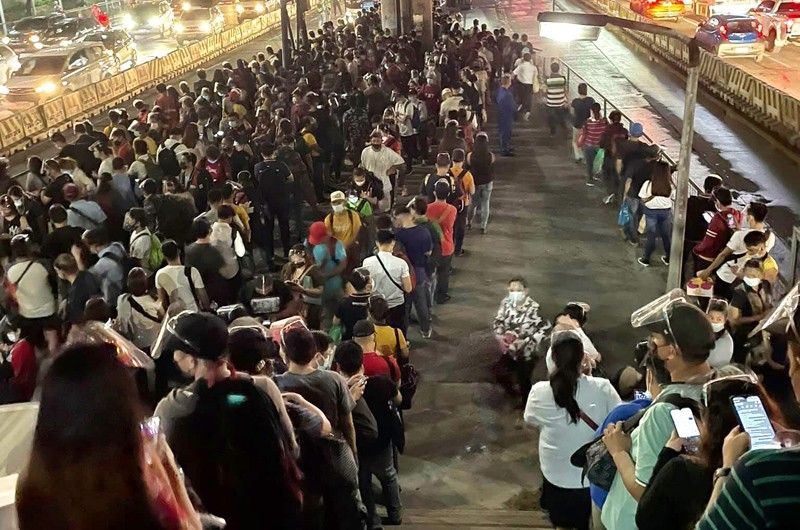 Commuters line up for a bus ride at a Metro Rail Transit Line 3 terminal, reportedly on the night of June 11, in a photo that became viral on social media over the weekend.
STAR/File
DOTr to address long lines at train, bus stations
MANILA, Philippines — The Department of Transportation (DOTr) is stepping up its efforts to address long queues at rail stations and bus stops along EDSA.
In a statement, the DOTr said Secretary Arthur Tugade has ordered the agency's road sector and the Land Transportation Franchising and Regulatory Board to implement steps to address concerns regarding long lines of commuters and prevent them from happening again.
Tugade has ordered a review of the present free ride system and a study if it may be expanded to other platforms, not just the road transport sector.
The DOTr said there are now more commuters who prefer to take the EDSA Busway rather than the Metro Rail Transit Line 3 (MRT-3) since the bus ride is free.
Tugade also called on the EDSA Busway consortium to deploy the maximum number of authorized buses under their contract to serve more commuters availing themselves of the free bus rides, especially during rush hour, and to add more buses as necessary.
The DOTr said the consortium has pledged to add 15 more modern buses with left-side doors for the EDSA Busway route.
Tugade has also ordered more transport marshals to properly manage passenger traffic at the various EDSA Busway stations and to guarantee fast and orderly passenger bus boarding.
He likewise called for the deployment of more "rescue skip buses" to congested EDSA bus stops to pick up passengers, especially during rush hour, as well as the opening of more mini-loops to enable EDSA Busway units to maneuver immediately and get passengers.
The mini-loops will be monitored and managed by the Inter-Agency Council for Traffic, in coordination with the Metropolitan Manila Development Authority (MMDA), to ensure the smooth flow of traffic.
Unusual circumstances
The DOTr said concerns regarding long lines of commuters at the MRT-3's Ortigas and Ayala stations last Friday night were brought about by various unusual circumstances.
It said heavy rains coupled with seven vehicular accidents and two stalled vehicular incidents along EDSA last Friday contributed to the unusual traffic buildup, and affected the turnaround of EDSA busway units.
"Allow us to note that queueing and waiting time are inevitable, especially during rush hour, weekend, or when there are vehicular accidents and weather disturbances," the DOTr said.
"However, it is important to point out that unlike before when there were no designated loading and unloading stations, and when commuters were scattered along the whole stretch of EDSA to fight for their way to board the bus, there is order now. Commuters line up in an organized manner at stations, with the assurance that they can board the bus," it added.
The DOTr said its road sector, the MMDA and local government units concerned would meet to further discuss various measures to prevent traffic congestion that affect the operation of the EDSA Busway.