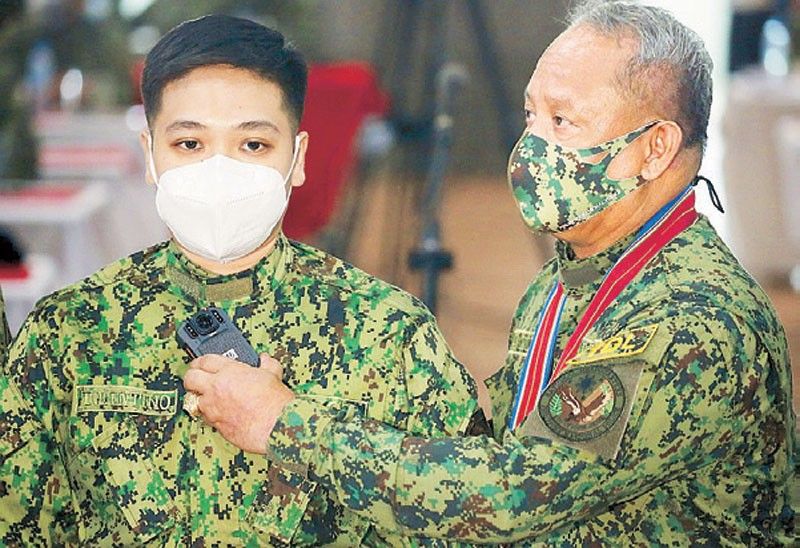 PNP director for logistics Maj. Gen. Angelito Casimiro demonstrates the use of body cameras for use in police anti-drug operations and other law enforcement functions during a training exercise at Camp Bagong Diwa in Taguig City yesterday. Story on Page 6.
KJ Rosales
Cops to wear body cameras next month
MANILA, Philippines — Police officers across the country involved in anti-narcotics operations will use body cameras beginning next month.
The Philippine National Police (PNP) yesterday started training personnel who will use the body cameras in anti-drug operations and other law enforcement functions.
Once a final acceptance is made, PNP Directorate for Logistics director Maj. Gen. Angelito Casimiro said police officers can use the body cameras during operations next month.
Final acceptance is granted once the devices – supplied by EVI Distribution Inc. – pass functional testing and personnel who use it are properly trained, according to Col. Benjamin Santos, who heads the PNP Command Center.
"We hope and pray that everything will go smoothly. Dadaan po sa proseso and the body-worn cameras will be fully operational by March," Casimiro said in a news briefing at Camp Bagong Diwa.
Once accepted, PNP chief Gen. Debold Sinas will give the go-signal for the body cameras' full utilization.
Casimiro is confident the body cameras would remove doubts that irregularities are being committed by police officers.
Government critics have been accusing the PNP of committing human rights abuses in President Duterte's war on drugs.
The PNP procured at least 2,696 body cameras, of which 648 were distributed to drug enforcement units in Metro Manila.
Each police station will receive 16 body cameras. Eight can be utilized in a particular operation while the other eight are reserved for law enforcement functions.
The security gadgets are equipped with SIM cards that could feed videos to the PNP Command Center at Camp Crame. – Ghio Ong