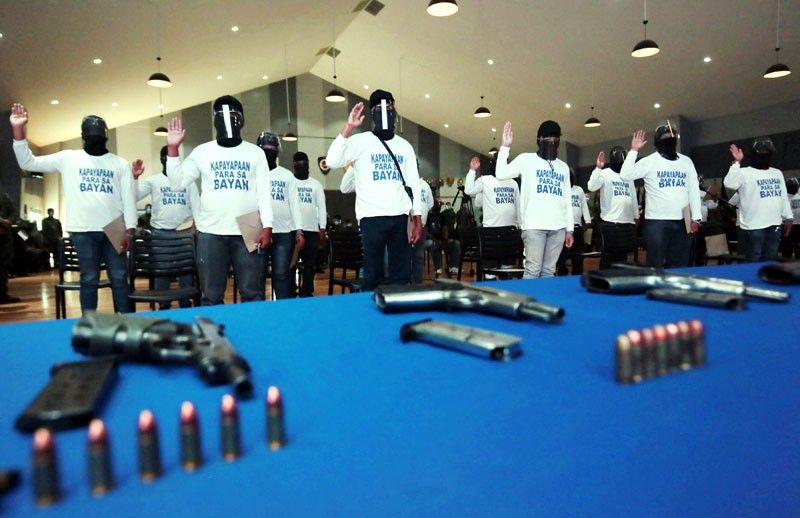 Thirty self-proclaimed former New People's Army rebels recite the oath of allegiance at Camp Bagong Diwa in Taguig yesterday.
Michael Varcas
NCRPO chief to leftist groups: Stop deception
MANILA, Philippines — Those being fooled by "leftist organizations" should return to the fold of the law, National Capital Region Police Office chief Maj. Gen, Vicente Danao Jr. said yesterday.
As 30 supposed leftist individuals surrendered to police, Danao said in a speech that individuals from the labor force are "being asked by the leftist groups" to join them "in the guise of protection."
"Let us stop the deception. What we need is real peace and quiet in the country. If not us, who would put a stop to this? Who would say 'this is wrong'? If not now, when?" he said in Filipino.
Danao alleged that those "recruited" are "forced" to give the 10 percent of their salaries, while the government gives the surrenderees money and jobs.
The NCRPO chief also accused some congressmen, whom he did not name, of "protecting" leftist groups.
"Maybe, it is high time for us to be awakened and see what kind of group this is. You are saying that policemen and soldiers are abusive, but we can say that the policemen and soldiers are trustworthy, 24 hours a day, for all seasons," he said.
Danao said he hopes more "leftist" individuals would return to the fold of the law so they could see that they are being treated by communist rebels as "their milking cows for decades already."
Most of those who surrendered , Danao said, are truck drivers from the labor sector.
"In the guise of forming an organization for thier protection there? You are just asking money from the people. So please, let us put a stop on this kind of activity that is full of deception,' he added.