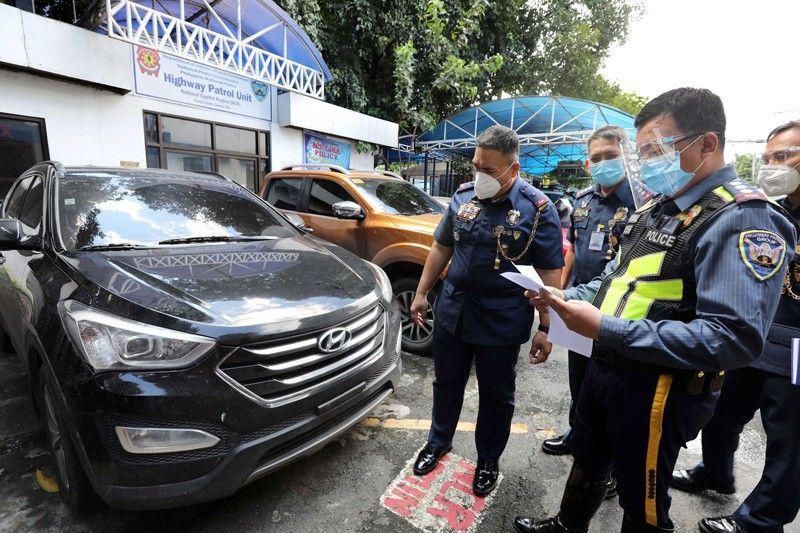 Highway Patrol Group chief Brig. Gen. Alexander Tagum (left) and HPG-National Capital Region head Col. Wilson Doromal inspect a Hyundai Santa Fe, listed as stolen, allegedly driven by SM/Sgt. Danilo Pacurib yesterday.
Boy Santos
Cop nabbed for driving stolen car
MANILA, Philippines — A policeman was arrested for allegedly driving a stolen vehicle in Quezon City yesterday.
Personnel of the Highway Patrol Group (HPG) flagged down SM/Sgt. Danilo Pacurib, who is assigned to the Payatas police station, while he was driving a Hyundai Sante Fe along Commonwealth Avenue at around 8 a.m. over improvised plates.
"The vehicle was stolen at gunpoint" in 2016, HPG director Brig. Gen. Alexander Tagum said in a news briefing.
Pacurib, who is in civilian clothes, did not grant an interview when presented to reporters. He faces charges of violating Republic Act 10883, the anti-carnapping law; RA 4136, the land transportation and traffic code; and Presidential Decree 1612, the anti-fencing law.
The vehicle is among the 15 vehicles impounded by the HPG yesterday for having spurious documents.