MMDA holds dry run for bicycle lane on EDSA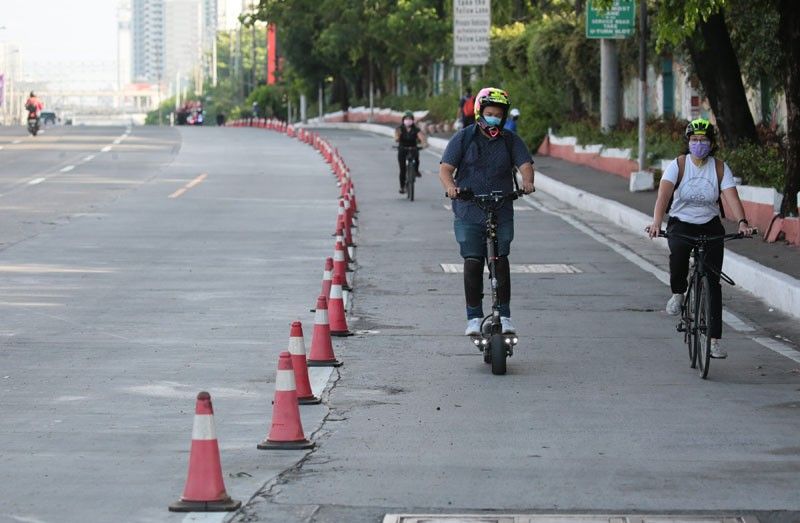 MANILA, Philippines — The Metropolitan Manila Development Authority (MMDA) yesterday held a dry run for a bicycle lane along EDSA as part of the observance of World Bicycle Day on June 3.
The government is promoting the use of bicycles as an alternative means of transportation once the modified enhanced community quarantine is lifted and Metro Manila transitions into the "new normal."
Last March, the government suspended public transportation as part of measures to curb the transmission of the coronavirus disease 2019.
MMDA traffic chief Bong Nebrija said delineation cones were put up from White Plains Avenue to Bonny Serrano Avenue in Quezon City to separate the bikers from the motorists.
He said the outer lane of EDSA would be used as a bike lane.
Bike riders are allowed to travel along EDSA with a speed of up to 20 kilometers per hour, according to Nebrija.
He advised bikers to wear the necessary protective gear when using the bike lane for their safety.
EDSA Evolution, a group of bicycle and scooter riders pushing for the permanent placement of protected bike lanes along Metro Manila roads, initiated the scheme.
The group estimated that around 5,000 people used bicycles in the metropolis during the enhanced community quarantine.
MMDA spokesperson Celine Pialago said the agency would support the provision of protected bike lanes in the metropolis.