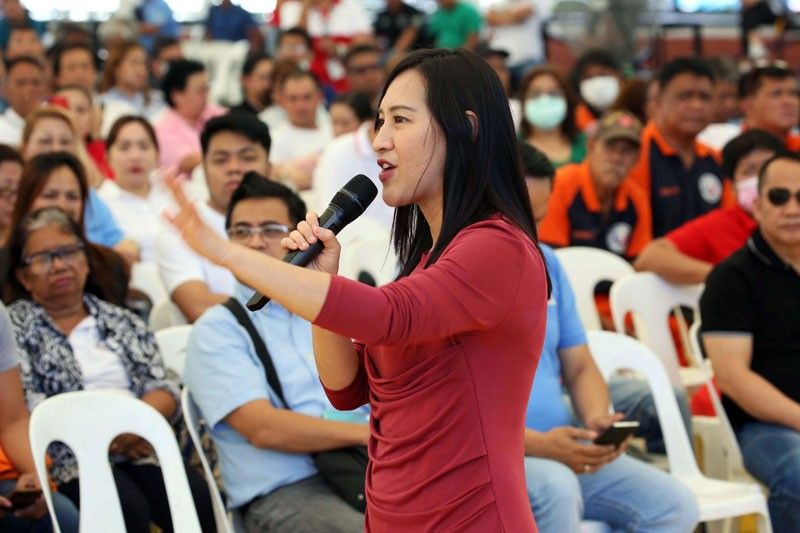 Quezon City Mayor Joy Belmonte orders officials of the city's 142 barangays to activate response teams against the novel coronavirus during a meeting yesterday.
Boy Santos
Quezon City activates response teams vs nCoV
Janvic Mateo
(The Philippine Star) - February 5, 2020 - 12:00am
MANILA, Philippines — Quezon City Mayor Joy Belmonte yesterday called on barangay officials to activate response teams in their jurisdictions amid the threat posed by the 2019 novel coronavirus (nCoV).
"As our eyes and ears in the communities, barangays play a vital role in monitoring and responding to suspected nCoV carriers in their areas," Belmonte said.
Barangay leaders were tapped to help monitor city hall employees who recently traveled to countries with confirmed nCoV cases to find out whether or not they are undergoing the required 14-day self-quarantine.
During a meeting with barangay officials, Belmonte called out those who shared false information about nCoV on social media.
"Sometimes our officials forget that the things they say will have an impact on their constituents," she said. "We should not spread news that are not validated by the Department of Health."
Among the fake news cited by the mayor was the reported lockdown of the East Avenue Medical Center supposedly due to a positive case of nCoV.
"That is not true," she said. "In fact, we do not have a confirmed case of nCoV in Quezon City. We are monitoring some patients, but there is no confirmed case."
Earlier, Belmonte ordered local government offices to streamline and harmonize all initiatives against the dreaded virus.
Local hospitals and other medical facilities said precautionary measures are in place to prevent the spread of nCoV in the city.
The city health office said doctors from barangay health centers have proper training on how to handle patients afflicted with infectious diseases and how to isolate possible nCoV patients.
"We should prioritize the training of barangay health workers because they are the first responders in our communities," Belmonte said.
Private hospitals in the city have been oriented and those categorized as Level 2 and 3 hospitals were advised to admit possible carriers of nCoV.
Belmonte also ordered a massive information dissemination about the disease in highly congested areas and schools in the city.