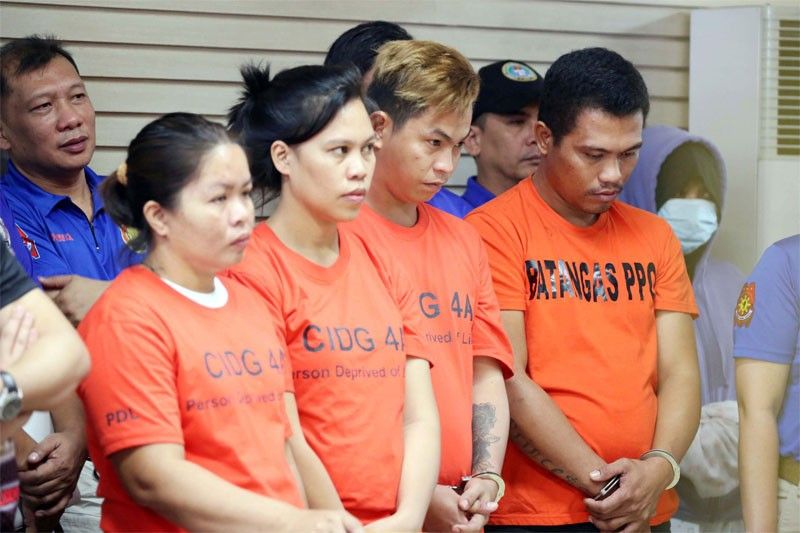 The suspects in the killing of former Batangas congressman Edgar Mendoza and his two companions are presented to the media at Camp Crame yesterday.
BOY SANTOS
'Ex-Batangas lawmaker drugged, stabbed to death'
BATANGAS, Philippines — Former Batangas second district congressman Edgar Mendoza and his two companions were drugged and stabbed to death before they were burned in his car in Tiaong, Quezon.
The Criminal Investigation and Detection Group (CIDG) said Mendoza's client Sherwin Sanchez, who is serving a life sentence for murder at the New Bilibid Prison, masterminded the killing.
Sanchez reportedly sought the help of his fellow prisoner, kidnap convict Arthur Fajardo, who is also a client of the former lawmaker, to contract hired killers.
Citing the testimonies of witnesses and some of the suspects, CIDG director Brig. Gen. Joel Napoleon Coronel said Sanchez and Mendoza had disagreements on the amount that the former congressman would collect as lawyer's fee.
"Instead of paying millions of pesos, they just contracted killers," Coronel told a press briefing yesterday.
The other suspects – Fajardo's wife Maria Roselle, Madonna Palermo, Carlo Acuña, Erickson Balbastro and Kristine Fernandez, the caretaker of Fajardo's house, who were arrested on Tuesday, were presented to the media. They were charged with murder before the Calamba City prosecutor's office.
Police said a manhunt for three other suspects, one of them identified as Rodel Mercado, is underway.
The suspects allegedly conspired to kill Mendoza in exchange for P100,000, but received only P10,000.
Coronel said Mendoza's driver Ruel Ruiz and his bodyguard Nicanor, also surnamed Mendoza, are collateral damage.
Breakthrough
Coronel said the arrest of Fernandez, who bared details of the murder, was the breakthrough in the case.
He said the victims were served coffee laced with sleeping pills at the house of Fajardo's wife in Barangay Prinza, Calamba City, Laguna on Jan. 8 at around 1:03 p.m.
Mendoza was at Fajardo's residence supposedly to receive payment for his legal services.
When the victims fell asleep, Acuña reportedly fetched Balbastro and Mercado at a convenience store in Barangay Lawa, also in Calamba, and put them in Mendoza's car.
"They were stabbed and hit by hard objects in the head," Coronel said.
The charred remains of the victims were found in a burned car abandoned on a bridge a day after Mendoza told his family that he would meet someone in Calamba.