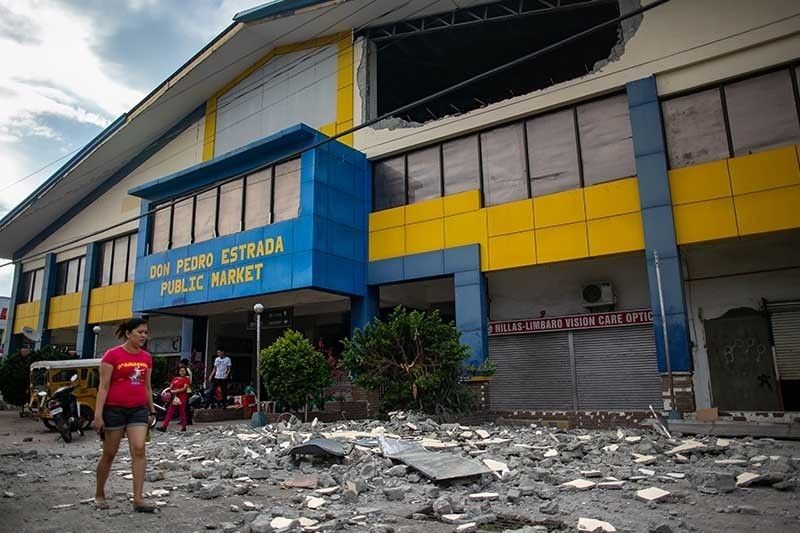 A resident walks past debris from a partially damaged building after a 6.4 magnitude earthquake hit the night before in the city of Digos, Davao del Sur province on the southern Philippine island of Mindanao on October 17, 2019.
AFP/Manman Dejeto, file
Mindanao quake infra damage hits P86 million
MANILA, Philippines — Damage to infrastructure due to a powerful earthquake that struck parts of Mindanao last week was estimated at P86 million, according to the Department of Public Works and Highways (DPWH).
Initial reports from the DPWH-Soccsksargen office showed that while all major roads and bridges in the affected areas remain passable, several infrastructure facilities were damaged and are continuously being monitored due to the occurrence of aftershocks.
The DPWH said cracks were noted on the bank protection of Olandang Bridges 2 and 3 along Midsayap-Makar Road, Arizona and Upper Panicupan Bridge along Dualing-New Panay Road and Dualing-Baliki Silik Road in North Cotabato and abutment of Malupog and Malitubog Bridges along Banisilan-Guiling Road.
Buayan Bridge along Digos-Makar Road in Sarangani and Upper Silway Bridge along Albert Morrow Boulevard in South Cotabato were also damaged.
A road slip was reported along Marbel-Makar Road and Makar Kiamba Road in South Cotabato and Maitum-Lake Sebu Road in Sarangani.
The Hall of Justice in Sadaan, Cotabato suffered the biggest damage among government buildings.
Also damaged were the Dilangalen National High School, Southern Christian College and Notre Dame of Midsayap College in North Cotabato; New Isabela Elementary School, San Emmanuel National High School and President Quirino National High School in Sultan Kudarat, and Aleosan District Hospital in Dualing, Cotabato.