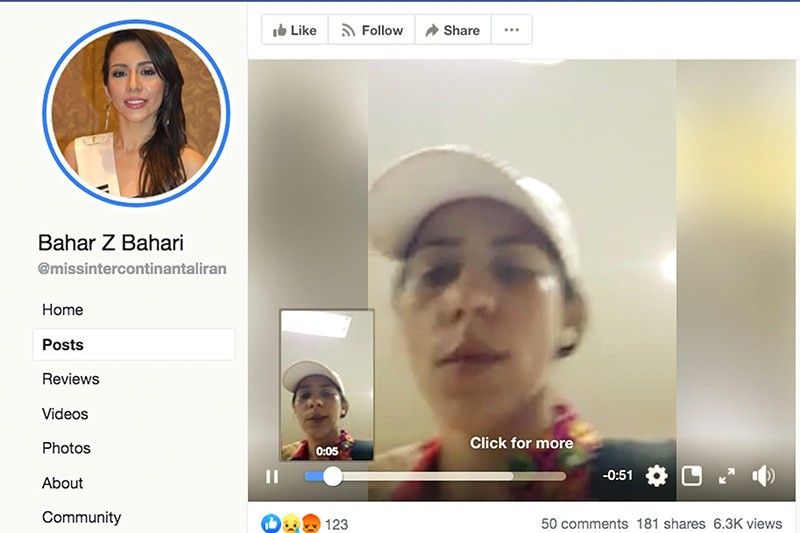 Zare Bahari Bahareh posts a video on her Facebook page appealing for help following her arrest at NAIA on Thursday.
Iranian beauty queen held at NAIA
MANILA, Philippines – An Iranian woman was held at the Ninoy Aquino International Airport on Thursday upon her arrival from Dubai.
Zare Bahari Bahareh – reported to be Miss Intercontinental Iran 2018 ­– was intercepted when her name appeared on the Bureau of Immigration's "derogatory" database, according to Grifton Medina, BI port operations division chief.
She is reportedly the subject of an Interpol red notice and has been charged with assault and battery in Dagupan, Medina claimed.
However, one supporter, Armin Navabi, said on Facebook that Bahareh, a university student, expressed her views against the Iranian government, which "is putting pressure on the Philippines to have her deported. Please keep telling Filipino officials and anyone that can help that Bahareh's life is in great danger if she's deported."
At the airport, Bahareh's companion, Minbashi Moeini Morteza, allegedly forcibly entered the arrival area and attempted to get her luggage.
"Morteza and Bahareh were already causing a scene and had to be forced apart by airport authorities as the former was already screaming: 'Jesus kill you all Filipinos,'" Medina said.
BI Commissioner Jaime Morente ordered immigration officers to conduct an investigation to determine the activities of Bahareh and her companion. ­