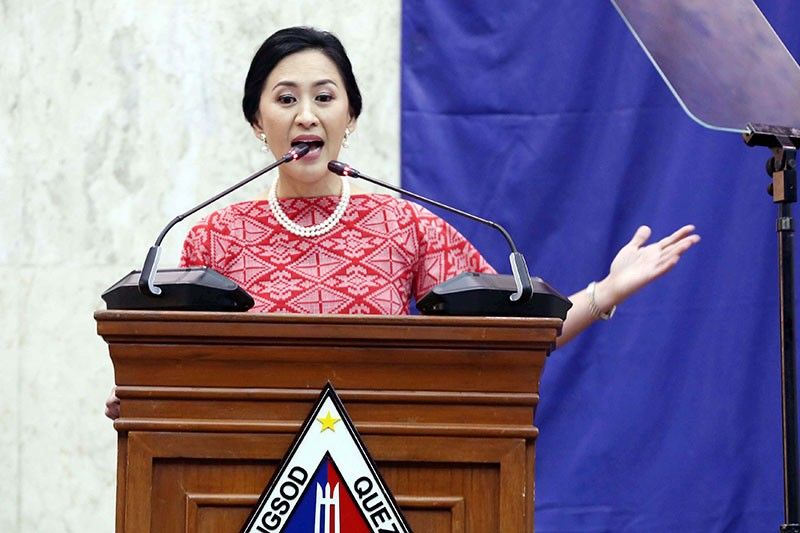 Quezon City Mayor Joy Belmonte delivers her first state of the city address yesterday.
Boy Santos
First 100 days: Belmonte cites Quezon City's gains
MANILA, Philippines — Quezon City Mayor Joy Belmonte yesterday cited gains in her first 100 days in office amid issues her administration has faced, from road clearing operations to the outbreak of the African swine fever (ASF).
Belmonte delivered her first state of the city address as she marked her 100 days as the local chief executive of Metro Manila's biggest city.
She scored her performance 90/100 as she acknowledged "unforeseen obstacles" during the period as "blessings" that guided her.
The mayor began her administration with President Duterte's directive for local government units to clear public roads of obstructions.
Belmonte said the city government was able to go "above and beyond" what was expected of them in the Department of the Interior and Local Government's order to clear the streets.
"We not only passed this test. We did so with a respectable rating, which at the moment I am not at liberty to disclose from the DILG. Close to 89, close to 91," she said in her speech.
In terms of road clearing, she said she wants to sustain the gains achieved by the city during the two-month deadline given by the DILG.
Belmonte said the ASF outbreak was a larger problem than they initially estimated, with the thousands of backyard piggeries illegaly operating in the city.
The mayor admitted that their initiatives may not have been aligned with the national government's strategy in dealing with the ASF as she immediately announced the outbreak of the disease last month.
"I stand by my decision as my priority is to eliminate the disease at the soonest possible time while empowering our people with the information they need to avoid spreading the disease," she said.
Cases of ASF were recorded in Barangays Bagong Silangan, Payatas, Tatalon and Tandang Sora.
A total of 4,466 pigs have been culled in the city. The local government gave a total of P13.3 million in financial assistance to affected hog raisers.
Belmonte said backyard piggeries were given a deadline to cease operations by February next year, or they will face sanctions and charges.
She said she wants to prioritize three agendas in her first three years in office: delivery of social services, a centralized governance and the shift to automation in government transactions.