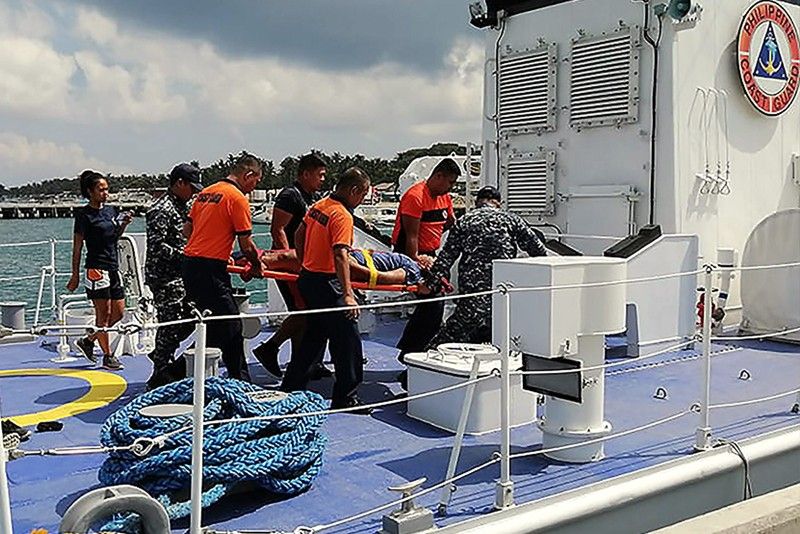 Coast Guard personnel carry a member of a dragon boat team who was rescued after their boat capsized in the waters off Boracay yesterday in this handout photo.
Dragon boat capsizes off Boracay; 7 dead
ILOILO CITY, Philippines — Seven members of a dragon boat team, three of them women, died while 14 others were rescued when their boat capsized off the coast of Boracay yesterday.
The victims are members of the Boracay Dragon Force, who were set to compete in Taiwan in November. They were training off the coast of Sitio Lingganay, Barangay Manoc-Manoc when the incident occurred at around 7:40 a.m.
The Malay police identified the fatalities as Mark Vincent and Comar Areob, who were declared dead on arrival at the Malay Municipal Hospital; Maricel Tan, Richel Montoya and Antonette Spranes, who were brought to the St. Gabriel Medical Center, and Vince Natividad and Yohan Tan who were taken to the Metropolitan Doctors Medical Clinic.
Among those rescued, a certain Von Navarossa, remains confined in a hospital.
Also rescued were Mark Baccay, Jaylord Violanda, Robel Licerio, Marc and Karhleen Sabado, Kenneth Bandalan, Julia Kurbanitzova, Maggie Xie, Yhen Aytona, Lani Ordas, Janice Lumbo, Jaoe Buenaventura and Edwin Paradas.
Lt. Cmdr. Marlowe Acevedo, Philippine Coast Guard-Aklan station chief, said the victims assembled at Aqua Resort Laguna de Boracay in Barangay Balabag at around 6:30 a.m. and boarded their boat at around 7:15 a.m.
"They were paddling... in Tulubhan Bay... when the boat was hit by big waves and strong winds," Acevedo said.
He said the survivors tried to rescue some of their teamates as they swam to the shore.
Witnesses said the boat was only around 300 meters from the shore when the incident occurred.
The Philippine Dragon Boat Federation (PDBF) said it joins the Boracay dragon boat community in expressing its sympathy for the families of the fatalities and praying for the immediate recovery of those injured.
Personal flotation device
"We encourage the use of personal flotation device during training and require wearing the same in local regattas to make sure that we avoid incidents that lead to unnecessary loss of life or ... injury. We also educate our member clubs on proper safety protocols in case of capsizing or sinking of boats," the PDBF said.
Dragon boat rowing using Chinese-style canoes adorned with dragon designs and manned by a team of paddlers and a drum beater on board have long been popular in the country, with teams competing in domestic and Asian competitions.
There was no storm battering the region and government forecasters said light to moderate winds were expected yesterday, with generally calm seas.
Last month, 31 people died when two ferries capsized in Iloilo Strait after they were buffeted by fierce waves and winds off Guimaras and Iloilo, not far from Boracay. – With Robertzon Ramirez, AP