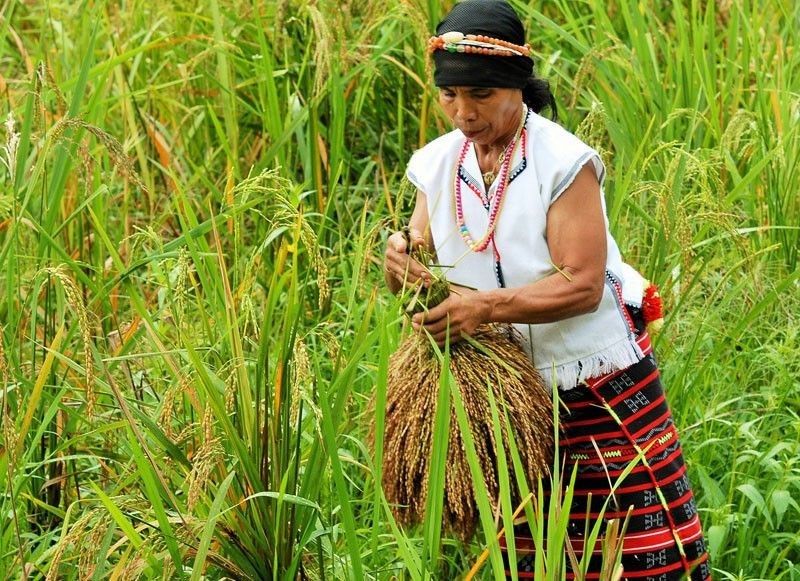 In this undated file photo, a woman cuts excess stalks of a bundled Tinawon rice during the actual harvest at the Anao rice terraces in Hingyon, Ifugao.
File photo
IP voice in local Cordillera councils weak despite law recognizing their rights
BAGUIO CITY, Philippines — The indigenous peoples' "voice" in local legislative bodies in the Cordillera region remains faint due to weak implementation of a law ensuring their representation in councils.
More than after passage of the Indigenous Peoples Rights Act, only half of the barangays in the highland region have IP representations in legislative bodies, the National Commission on Indigenous Peoples-Cordillera confirmed.
Only 532 barangays have installed their Indigenous Peoples Mandatory Representative, or only 50.62 percent of the total 1051 barangays in the whole region, said Rocky Ngalob, spokesperson of NCIP-CAR.
At the municipal level, only 54 of the town IPMRs have sat in their Sangunniang Bayan. There are 68 towns in the region.
Representation is better in the provincial counciles, with only Ifugao having no IPMR on its board among the six provinces in CAR.
Even Baguio City has not allowed its selected IPMR — Roger Sinot — to sit on the 12-member city council.
In Sadanga, Mountain Province, the NCIP is eyeing administrative, civil and even criminal suits against the Sangunniang Bayan members if they continue barring duly selected IPMR Jimmy Galingan from the council. This, amid their challenge against the applicability of representation of Galingan via SB Resolution No. 45, series of 2019.
In an August 19 letter to the Sadanga SB members, the NCIP said their "failure to allow the assumption of the duly selected IPMR of the IP/ICC of Sadanga to the Sanggunian Bayan of your Municipality […] will constrain the office to file the necessary administrative, civil and criminal charges against you in order to uphold and protect the rights and interest of the indigenous peoples."
The commission said there are no provisions in IPRA, its implementing rules and regulations and NCIP Administrative Order No. 001 series of 2009 requiring the prior adoption by the concerned local legislative council of a resolution to recognize the IPMR.
Nor does the law require prior acceptance by the local chief executive of the representative of an indigenous cultural community/indigenous people to be allowed to sit on the council.
The NCIP-Cordillera also told the Sadanga SB members, "we cannot also deduce the intent of our lawmakers on requiring the prior adoption of a resolution by the local Sanggunians or the acceptance of the mayor of the ICC/IP representative and if ever this was the intent of Congress, they should have indicated it in clear and unequivocal terms."
NCIP said that "while the Municipality of Sadanga is composed of 100 percent population of indigenous peoples and has 100 percent local elected officials as contained in the Sangguniang resolution, it does not mean that the indigenous peoples are not entitled to a mandatory representation in the Sangguniang Bayan."