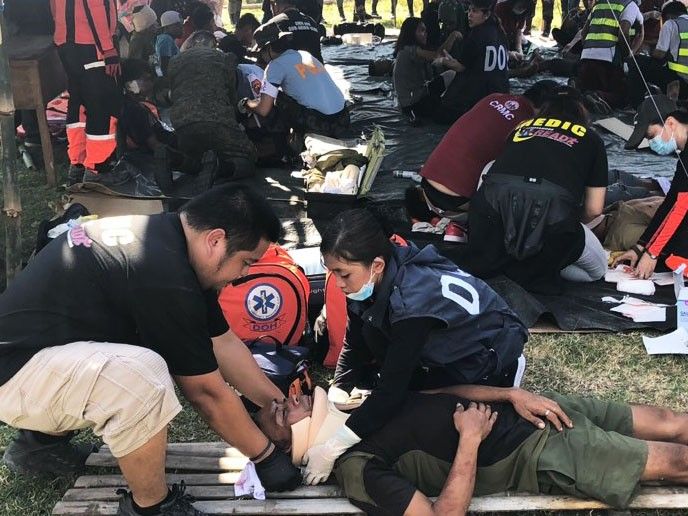 Personnel of the Bangsamoro rapid emergency contingent perform a capacity-enhancement drill in preparation for humanitarian services in far-flung areas.
Philstar.com/John Unson
BARMM's 'Tabang Project' to commence on Monday
John Unson
(Philstar.com) - August 31, 2019 - 5:27pm
COTABATO CITY, Philippines — The Bangsamoro government will launch Monday a humanitarian outreach mission to mark the start its pro-poor community extension services for impoverished communities.
The "Tabang Project," or Tulong Alay sa Bangsamoro na Nangagailangan, will cover the region's Muslim, Christian and Lumad communities in provinces and cities inside the Bangsamoro Autonomous Region in Muslim Mindanao.
BARMM's Rapid Emergency Action on Disaster Incidence, or the READI outfit operating under the supervision of the region's Ministry of the Interior and Local Government, will oversee the Tabang Project.
Tabang means help in all Visayan and most Moro and Lumad dialects.
READI personnel will conduct on Monday a medical mission in remote barangays in the adjoining Rajah Buayan and Mamasapano towns in the second district of Maguindanao.
Lawyer Naguib Sinarimbo, BARMM's local government minister, on Saturday said READI staff members have prepared well for the event.
The Integrated Provincial Health Office-Maguindanao, the United Nations Population Fund, the Army's 33rd Infantry Battalion and the local government units in Mamasapano and Rajah Buayan towns will help carry out Monday's activity.
"Our municipality appreciate the efforts of READI and the local government ministry of BARMM," Mayor Zamzamin Ampatuan said on Saturday.
The READI contingent evolved from the Humanitarian Emergency Assistance and Response Team, or HEART of the now defunct Autonomous Region in Muslim Mindanao, or ARMM.
ARMM got replaced with BARMM on February this year as a consequence of the peace talks between the national government and the Moro Islamic Liberation Front.
The chairman of MILF, Hadji Ahod Ebrahim, is now chief minister of BARMM, which has a parliament comprised of 80 appointed members functioning on interim capacity pending the regional elections in 2022.
The HEART had served more than a million ARMM residents through its periodic People's Day missions in the region's five provinces and cities while Mujiv Hataman, now congressman in Basilan and House deputy speaker, was the region's elected governor.
HEART's pool of rescuers trained in disaster and conflict response actions as well as its medical practitioners are now under the ministerial control of Sinarimbo.
The Office of the Chief Minister, or OCM, will also facilitate on Monday a separate humanitarian outreach mission in the 32-hectare BARMM compound in Cotabato City.
The activities of the BARMM government in Maguindanao and in the regional capitol on Monday shall mark the commencement of the Tabang Project.