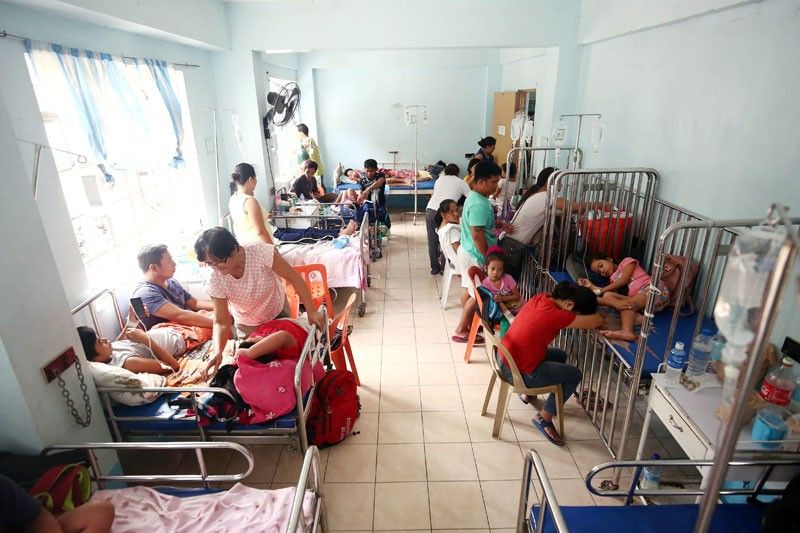 The pediatric ward at the Rizal Memorial District Hospital in Calamba City, Laguna is packed with dengue patients yesterday. The city is under a state of calamity due to an increase in dengue cases.
Miguel de Guzman
State of calamity in Cagayan Valley towns due to dengue
SANTIAGO CITY, Isabela , Philippines — Three towns in Cagayan Valley have been placed under a state of calamity due to a surge in dengue cases.
These are in Lasam in Cagayan and Roxas and Echague in Isabela, where a dengue alert had earlier been declared.
The municipal health offices recommended the declaration of a state of calamity to allow local government officials to tap calamity funds to procure the needed equipment, supplies and medicine to address the outbreak.
Mayor Jonathan Calderon said dengue cases in Roxas increased to 12 cases a week from the normal threshold of eight, with four deaths.
In Echague, 319 cases were recently reported.
The Cagayan Valley Regional Disaster Risk Reduction and Management Council said a state of calamity should also be declared in other areas where the cases reached an epidemic threshold.
Alcala, Solana and Sto. Niño in Cagayan; Quirino, Dinapigue, Divilacan and Tumauini in Isabela, and Aglipay, Saguday and Cabarrougis in Quirino are also under dengue alert.
Sharlyn Barangan of the Regional Epidemiology and Surveillance Unit of the Department of Health in Cagayan Valley said 6,761 dengue cases with 31 deaths were reported in the region from January to Aug. 13.
Barangan said there was a 100 percent increase in the number of cases compared to the same period last year.
Cagayan reported the most number of cases at 3,007 with 12 deaths; Isabela, 2,204 cases and 14 deaths; Nueva Vizcaya, 822 cases and three deaths; Quirino, 72 cases with two deaths, and Batanes, eight cases.