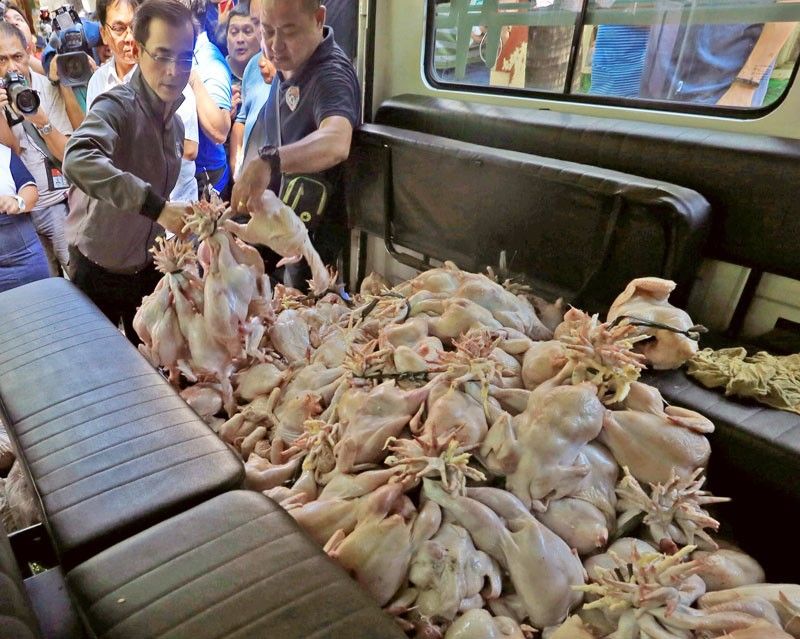 Manila Mayor Isko Moreno presents tainted chicken meat confiscated from Paco market during the launch of the city government's 'anti-botcha' campaign yesterday.
Edd Gumban
Isko nixes 37-story building near Quiapo Church
MANILA, Philippines — No high-rise "photobomber" building would be constructed near Quiapo Church, Manila Mayor Isko Moreno said yesterday.
During a visit to Manila Zoo, Moreno said his office found out about a plan to construct a 37-story building near the church.
He said the proponent first applied for permits for nine stories, then for 12 stories.
"Now they're planning to turn it into 37. It's good the plans were not final yet," he said in Filipino.
Moreno added that people have made their feelings against "photobombing" structures, such as the building constructed near Rizal Park.
He said Quiapo residents told him about the possible construction of a high-rise, but the zone only allows medium-sized buildings.
As for the Manila Zoo, Moreno said he plans to have it reopened after the city government has addressed issues identified by the Department of Environment and Natural Resources, which said the zoo contributed to the pollution of Manila Bay because it did not have a proper sewerage system.
Moreno also gave 400 kilos of "double dead" chicken meat to the zoo after the Manila City Veterinary Inspection Board seized the meat from Paco market vendors.
The tainted chicken meat, with a street value of P36,000, reportedly came from unaccredited slaughterhouses and transported from Las Piñas City and unloaded in Paco Wednesday night.
'Unbelievable'
On the other hand, former Manila city administrator Ericson Alcovendaz yesterday described as "unbelievable and outright incredible" Moreno's claims that the previous administration pocketed P5 million in bribes from illegal vendors every day.
Alcovendaz said vendors could hardly pay the hawker's fee of P20 per day, "so how could they possibly raise P5 million a day?"
In an interview with ANC, Alcovendaz also denied Moreno's claims that Joseph Estrada left the city government P14 billion in debt. He said Manila has P10 billion in various banks.
Alcovendaz also denied Moreno's statement that the city government owes P214 million to the Government Service Insurance System, saying the Estrada administration contested the GSIS claim of unpaid contributions for city hall employees.
"As far as our records are concerned, we are up to date in the remittances of the contributions of our employees," he said.
As for the P2.9 billion in commercial contracts Moreno alleged was spent by the Estrada administration during its last months in office, Alcovendaz said they are all "legitimate and regular expenses" of the city government.