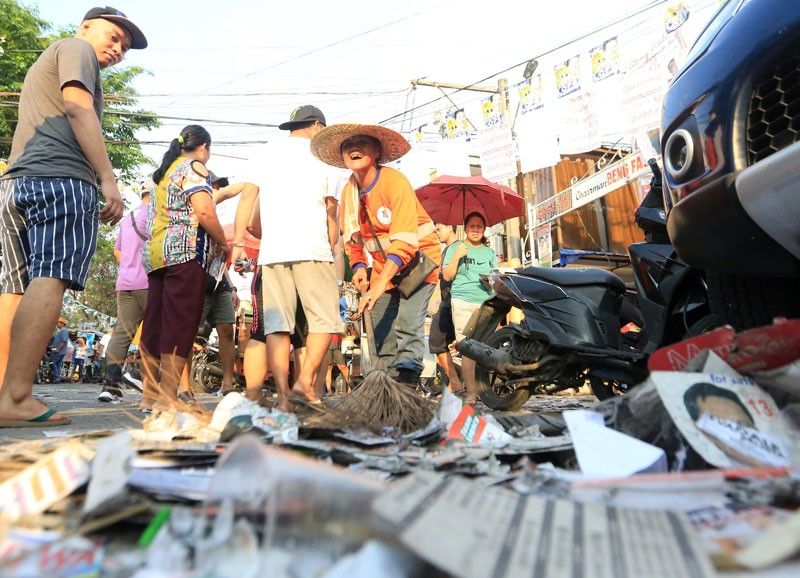 May 13, 2019..Trash and campaign materials of candidates seen outside Rosauro Almario Elementary School in Tondo, Manila.
Edd Gumban
DILG to bets: Clean up campaign materials
MANILA, Philippines — The Department of the Interior and Local Government (DILG) urged local officials and candidates in the midterm elections to immediately remove their campaign materials.
DILG Secretary Eduardo Año said politicians should be responsible enough to clean their own trash now that the elections are over.
"Win or lose, show that you are a good sport and that you have the best intentions for your communities by being part of the cleanup drive in your areas," he said yesterday in a statement.
Año said local officials from provincial governors down to barangay captains should lead in the removal of campaign posters, sample ballots, flyers, tarpaulins and leaflets left by the candidates and their supporters.
He made the appeal as tons of trash have been left on the roads and public places leading to the polling precincts.
Cleaning up election trash, Año said, is an opportunity for the people to gather and work together for a common good.
Meanwhile, Green watchdog EcoWaste Coalition called on candidates and the general public to conduct post-election cleanup and upcycling.
Aileen Lucero, the group's national coordinator, said upcycling "or the creative use of discards, is a practical way of saving resources from being burned or sent to the dumps and landfills for disposal."
She said paper-based campaign materials can be repurposed as bookmarks, envelopes, folders, mirror or photo frames, drawing pads, memo pads, name plates, scrap books and teaching aids such as flash cards and "tell the time" clocks.
Polyethylene plastic posters can be used as book and notebook covers while polyvinyl chloride tarpaulins can be converted into bags and pencil or mobile phone cases, Lucero said.