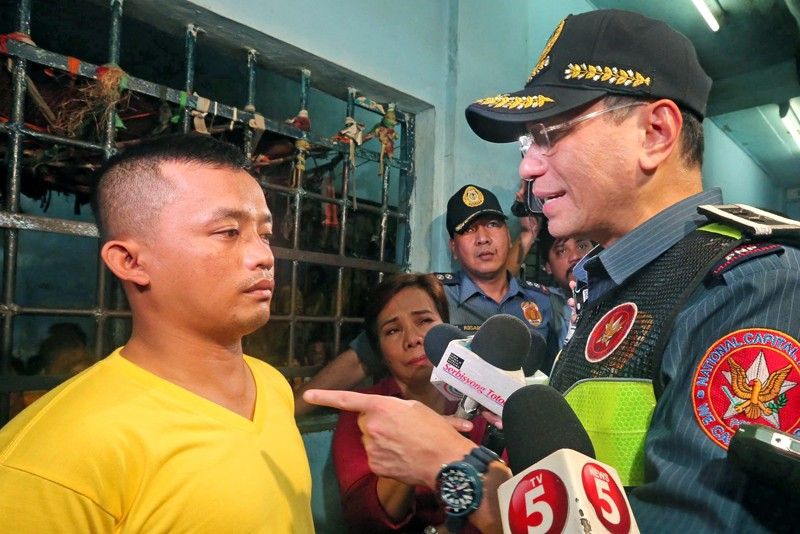 NCRPO chief Maj. Gen. Guillermo Eleazar berates Cpl. Rocky delos Reyes at the Caloocan police headquarters yesterday. He vowed he would ensure Delos Reyes' dismissal from service.
Boy Santos
No VIP treatment for cop tagged in boy's slay
Rey Galupo
(The Philippine Star) - May 2, 2019 - 12:00am
MANILA, Philippines — The Caloocan policeman who was charged with murder and attempted murder for killing a six-year-old boy and shooting his grandmother will receive no special treatment from his colleagues, officials said yesterday.
Cpl. Rocky delos Reyes will be held at the station custodial facility until the court orders his commitment to another detention facility, said Col. Restituto Arcanghel, Caloocan police chief.
National Capital Region Police Office chief Maj. Gen. Guillermo Eleazar reprimanded Delos Reyes at his cell yesterday, saying the policeman will be treated as an ordinary inmate.
Delos Reyes, who was assigned at the Northern Police District's administrative holding unit, was formally charged at the Caloocan prosecutor's office yesterday.
Arcanghel said there was no evidence to support the corporal's claim that there was a shootout between him and drug suspect Joevannie Mosquito, alias "Botchok," in Barangay 178 Sunday afternoon.
Residents confirmed that Delos Reyes was chasing a man before the boy was hit but dismissed his claim that there was a shootout.
Arcanghel said Delos Reyes was positive that it was Mosquito he chased "because he knows him personally and he knows that he had two warrants."
He said Delos Reyes was transferred to the administrative holding unit after he was charged for indiscriminately firing his gun during a birthday party last year and for being under the influence of alcohol while on duty.