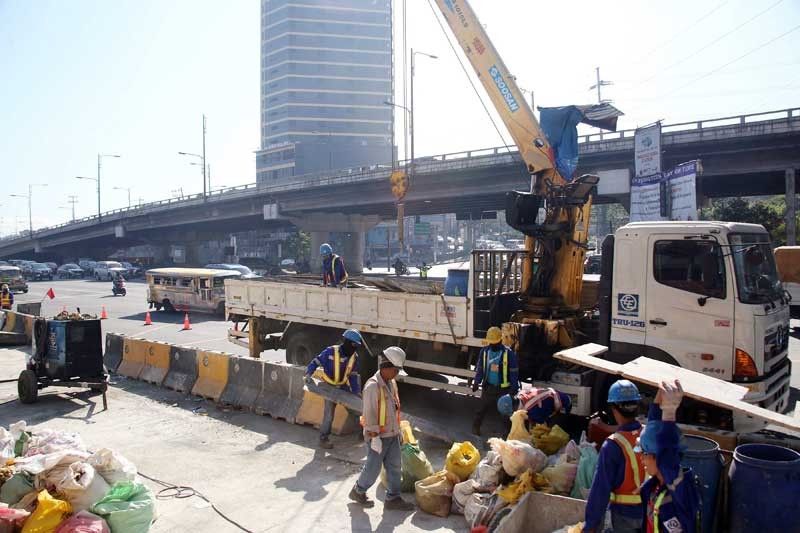 Workers clear Commonwealth Avenue in Quezon City ahead of the closure of the Tandang Sora fl yover today.
Michael Varcas
MMDA shuts down Tandang Sora flyover today
MANILA, Philippines — The Metropolitan Manila Development Authority (MMDA) yesterday warned motorists of monstrous traffic jams in Quezon City with the closure of the Tandang Sora flyover today.
MMDA general manager Jojo Garcia said the flyover and intersections along Commonwealth Avenue would be closed to traffic starting at 11 p.m. for the construction of the Metro Rail Transit Line 7 (MRT-7). "We encourage motorists to follow traffic rules and be patient because we will all benefit from the project," Garcia said.
Based on the MMDA's data, more than 100,000 motorists will be affected by the closure of the Tandang Sora flyover.
The closure of the flyover was originally scheduled on Feb. 23.
It was moved to March 2 after Quezon City Vice Mayor Joy Belmonte asked for a one-week postponement to allow government agencies to better inform the motorists.
"Barangay officials will be meeting with stakeholders. We will deploy additional traffic enforcers in the area," Belmonte, who is running for mayor in the midterm election, said.
She asked the project's private contractors to conduct information drive about the flyover's closure.
Belmonte also sought the assistance of barangay leaders to help the MMDA identify alternate routes, which will be opened to motorists traversing the area.
More roads closed
Five major thoroughfares in the metropolis were closed to vehicular traffic on Friday night to give way to repairs of the Department of Public Works and Highways.
The southbound lanes along C-5 Road between Lanuza Avenue and Bagong Ilog flyover were closed to motorists as well as the southbound lane on EDSA Lagarian Creek-Ermin Garcia.
The northbound lane of R. Magsaysay Boulevard, going to Cubao, R. Magsaysay Bridge and Pureza street are also not passable due to road repairs.
Affected motorists were advised to look for alternate routes to avoid traffic jams.
The roads will be opened to motorists on Monday morning, the MMDA said.